Jake Simmons could not stop smiling once he wheeled into the Tranquility Hall at Walter Reed National Military Medical Center. With each Washington Commanders player he moved to, he found himself in an interesting conversation or drawing up important memories.
"I grew up playing and just always loving sports," Simmons said. "It's still an outlet for me and being here today around these guys is just really cool. I couldn't even imagine this opportunity if I was eight years old. I'd be jumping out of my pants."
There he was face-to-face with Commanders player Joey Slye, the former kicker for his beloved Carolina Panthers. Then, defensive end Shaka Toney, the same position Simmons played in high school. He got to talking to the players about the tattoo on his forearm, the one with the skeleton holding up a four of hearts. It commemorates the four times he had to be resuscitated after the day his life forever changed and the reason his left leg was amputated last week.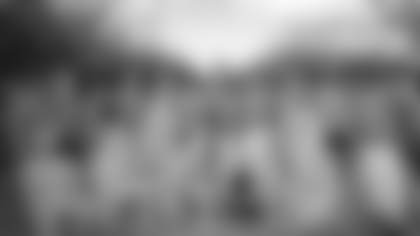 From chatting about tattoos, football and hometowns to trading special mementos, connection was a big part of the afternoon at Walter Reed yesterday. Organized by the Commanders Charitable Foundation to kick off Salute to Service month, the hospital visit provided a chance for Commanders players to engage with staff and patients at one of the country's most esteemed military hospitals. Throughout the event, hospital personnel and patients got swag bags, autographs and time to engage with Commanders players as well as Team Dog Mando.  
Tuesday's visit began with a stint in the hospital's Tranquility Hall. A dozen Commanders players greeted excited staff and patients, lined up outside the doors, who were given Salute apparel and items to have signed. 
"Seeing them here just shows that they really care," said Clarice Kariuki, a hospital administration apprentice while holding a mini football signed by all the players. 
"They came out here on their off day to be with us. I mean I like spending my off day in bed, so it means a lot." 
The guys then split into two groups to visit amputees and hospital staff at the Military Advance Training Center as well those in the in-patient ward. The players spent time in patient rooms and took pictures with nurses and doctors. HM3 Esteban Ríos was touched by his meeting with the players in which Shaka Toney gifted him a Commanders challenge coin.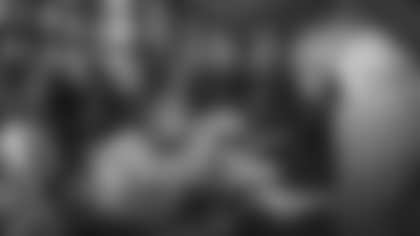 "They're super nice guys, and they gave me the challenge coin, which made my day," Rios said. "Me being in the Navy, those are a big deal to us. I absolutely loved that. I thought it was awesome that they were really humble guys, and they asked where I'm from and just seemed really engaged." 
The interactions of the day also left an impact on the players. With Salute to Service month just beginning, there is growing excitement around the experiences ahead that empower, connect and honor the military community across the D.C., Maryland and Virginia area. 
"What an opportunity to just brighten somebody's day and maybe make it just a little bit better -- the smiles, the hugs, just meeting people," said rookie offensive guard Chris Paul while boarding the bus back to Ashburn. "As soon as we walked in, there was sort of this warm embrace and you could tell that they were just so excited…I definitely look forward to more opportunities like this."