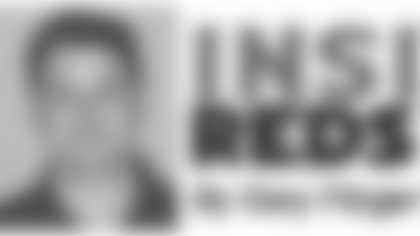 A dream came true on Sunday at Redskins Training Camp.
A half-hour before Sunday morning's practice, Chris Cooley spent time with an 8-year-old boy named Joey Filetto, Jr., on the Redskins Park practice fields.
Filetto, from Pasadena, Md., has leukemia and recently underwent spinal tap chemotherapy. He is in treatment at John Hopkins.
Joey wanted to spend time with Cooley, his favorite Redskins player. The Make-a-Wish Foundation and the Redskins Charitable Foundation made it happen.
Joey and Cooley chatted on the main practice field, and then tossed the football back and forth.
Then Joey tried a field goal, with Cooley as the holder. The kick was short.
So Chris told Joey to try punting it through the goal posts.
After several attempts, Joey's kick sailed through--to the applause of Redskins fans who had come to watch the practice.
Redskins began to filter out to practice. Mike Sellers stopped by to say hello. So did Jason Fabini and Todd Collins.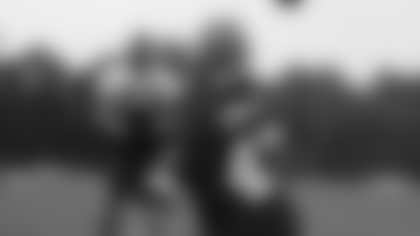 Cooley introduced Joey to Jon Jansen and Kedric Golston as they arrived for practice.
Cooley bragged about Joey's arm, and told Jansen to go out for a pass.
Jansen ran about 10 yards and caught Joey's pass.
Joey said he wanted to meet Jason Campbell.
Cooley and Joey approached the Redskins quarterback and Campbell greeted the youngster with a wide smile.
"You've got to see Joey's arm, he throws a nice spiral," Cooley said.
Campbell and Cooley decided to run a play with Joey as quarterback.
What play to run? Joey wasn't sure where to huddle up, so Cooley told him: "You are the huddle, we'll huddle around you.
Campbell whispered the play call into Joey's ear as Cooley listened in.
They called Todd Yoder over to serve as center.
Yoder snapped to Joey, who took a step back and lofted a pass--a nice spiral--to Cooley.
Afterwards, Cooley had to get to practice. The two new friends exchanged well wishes.
Cooley met up with Joey after practice and they sat down for an interview with a local television reporter.
Cooley said it felt like Joey could be his little brother.
"I woke up this morning and knew I was going to meet him, and thought how awesome it was that he was looking forward to it," Cooley said. "It was very cool. I wanted to show him a good time.
"We had some fun, threw the ball around, we ran some plays. It was a good day not just for him, but for me, too."
"It is really cool to make someone's day like that. It's unfortunate when someone has to deal with [leukemia], especially as young as he is. He is a football player; he is a quarterback.
"To be able to have him come out, hang out and meet all of us was awesome. It was good for us."