Chris Cooley arrived for a media session after the Redskins' OTA practice on June 2. Dressed casually, he found himself surrounded by reporters and television cameras.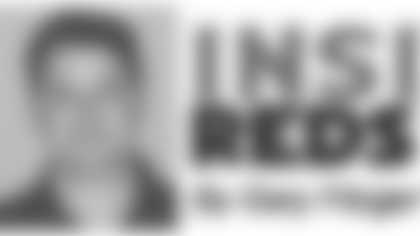 Did they want to know about Cooley's transition to the new offense?
No. In fact, not one question was football-related.
Instead, reporters peppered him with questions about his May 23 wedding to Christy--a former Redskins Cheerleader--at the Lansdowne Resort in Leesburg, Va..
They queried about his honeymoon to the Bahamas.
They asked about his increasingly popular blog, which can be accessed at chriscooley47.blogspot.com. (He also writes a blog for Yahoo.com.)
It appears Cooley, the Redskins' Pro Bowl tight end, is starting to transcend his sport.
Is Cooley becoming...a celebrity?
Certainly, he has emerged as one of the most popular Redskins.
Chris and Christy even received wedding gifts from "random fans" who discovered the couple's registry online.
Joked Cooley: "I guess I should have picked out more things at Macy's. We didn't tell anybody really, we just did it for fun because that's what you do. Everything got bought."
In the days leading up to the wedding, there was an air of anticipation at Redskins Park.
The Washington Post even posted previews of the wedding in its online blogs.
Fashion is always a big part of weddings, so The Post's "Reliable Source" gossip column had updates on Cooley's attire. He wore an all-white tuxedo with a pink tie, which reportedly matched the bridesmaids' dresses.
The wedding guest list included about 40 of Cooley's current and former teammates, plus coaches.
After the wedding, Cooley posted photos and a video on his blog. Fellow tight end Todd Yoder later provided a guest blog in which he detailed his favorite wedding floor dance, "the motorcycle pickup."
Asked about his nuptials, Cooley said: "It was exciting. We had such a fun time. So many people showed up--so many of our friends and family. We had a blast.
"It was really kind of sad when it ended because we really had a great time.
"The honeymoon was fantastic. We went to the Bahamas and really just relaxed for a week. We have been kind of busy getting everything planned together, so it was nice to just hang out with Christy for the week."
Even as interest in Cooley's personal life is increasing, fans will be glad to know that he is staying grounded.
Just a few days removed from the honeymoon, Cooley was at Redskins Park, participating in the last stretch of voluntary OTA practices.
It's "back to real life," as he calls it in his most recent blog entry.
For Cooley, the blog has given him an opportunity to share his life with fans while also commenting on the state of affairs in football.
Along with his wedding, Cooley has written about the NFL's random drug testing program and NFL owners opting out of the Collective Bargaining Agreement.
"[The blog] has been a lot of fun," Cooley said. "It has been different to sit down and write stuff like that. I've really enjoyed writing different articles and picking different subjects I want to write about, and using my opinion and my voice to do it.
"The best thing about it is that I can read instantly what everyone thinks about it. Everyone can provide feedback [on the blog]."