For the first time in his 6-year career, Chris Cooley had nothing to do on Sundays.
He could only watch the Redskins from the sidelines, or worse yet, on TV.
Cooley had suffered a fractured ankle in a Week 7 game against the Philadelphia Eagles, an injury that would ultimately sideline him for the season.
Cooley, 28, has always prided himself on not missing a game or even a practice.
All of a sudden he was out for half a season.
Rehab stretched into the offseason, but he was healthy enough to rejoin teammates for the start of the Redskins' off-season workout program.
He was also on the field for the first Redskins mini-camp in mid-April.
Week 1 of the regular season, a Sept. 12 matchup against the Dallas Cowboys, had been circled on his calendar for months.
"I love being out here and I love being with the guys," he said during the first week of Redskins training camp. "It's so much fun to compete. It's something that I've dreamed of doing and something that I want to be the best at.
"It was very hard for me to sit and watch last year and I can't wait to get out and start playing. I'm happy to be here getting better, but I can't wait for the first week. I want to play."
This is a two-time Pro Bowler we're talking about here.
Cooley caught a team-high six passes for 80 yards in the Redskins' 13-7 win over the Cowboys. He has developed a solid rapport with Donovan McNabb, the Redskins' new quarterback.
Heading into the 2010 season, Cooley had posted 343 receptions for 3,789 yards and 30 touchdowns.
Among tight ends in Redskins franchise history, he is ranked second all-time in receptions, receiving yards and touchdowns. (First place belongs to Jerry Smith, whose 13-year career is twice that of Cooley.)
Cooley returned to a Redskins team that underwent a major transformation in the offseason.
The head coach is Mike Shanahan – who Cooley rooted for as a boy growing up in Utah, Denver Broncos country – and there are new offensive and defensive coaches. There is a new offense for Cooley to learn – it's a West Coast scheme that offers balance between the running game and the passing game. And the quarterback is Donovan McNabb, acquired from the Philadelphia Eagles in an off-season trade.
At tight end, Cooley is joined by tight end Fred Davis, who posted 48 catches for 509 yards and six touchdowns in Cooley's absence last season.
Shanahan said he wanted competition at every position during training camp and preseason, but he had to be happy with the depth at tight end.
While Cooley knows he is going to be a big part of the Redskins' offense, he understands that he must also reassert himself.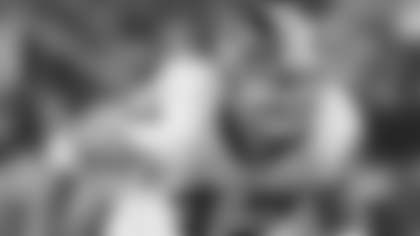 "There's competition at every position, but I think there's competition to get attention in this offense," he said. "You look for guys that can make plays. You look for guys that you can put in and count on.
"So a lot of times we say we're competing with the receivers for different routes. Or we're competing with the running backs for different routes. There's competition everywhere to get the ball."
Cooley and Davis should see playing time in two tight end sets. In a spread formation, their presence together could prove to be a real threat.
It's something that the team has been talking about ever since Davis was drafted in the second round of the 2008 NFL Draft.
"I think it makes us very versatile because I truly feel like we're capable of running the ball well with the two of us in there," Cooley said. "That sets up play action and from that you can spread it out and throw the ball. So defenses will have to guess.
"A big thing that defenses do is see the personnel in the game and then play percentages of what an offense is going to do. I think we can be 50-50 with everything – and that can be a huge advantage for us."
Even though Cooley is coming back from injury, he refuses to play at a lower standard.
"I expect a ton of myself," he said. "I put a lot of pressure on myself. Honestly, I believe that I'm my biggest critic. After practice, I go in and watch the whole film...There are always things I can do better. But I think this offense is going to give me every opportunity to make big plays, and most importantly, just to help our team."