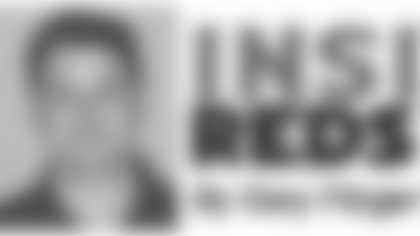 Every time quarterback Chase Daniel drops back to pass during Redskins OTAs, those two words are paramount in his mind.
For years, Daniel has been taught to "play tall" in the pocket so that he could see the field and find the open receiver.
Now he is learning to play more compact to better maintain his mechanics every time he throws the ball.
For Daniel, the Redskins' newest quarterback, it's all part of his adjustment to the NFL.
"You can always learn a different way of doing things to make yourself better, and that's what I'm doing," Daniel said. "I'm soaking in everything that Coach [Jim] Zorn said. I'm like a sponge.
"He's telling me to be more compact, get the ball back on my right shoulder and stay low. Don't raise up. That's a little different for me, but doing it is just a matter of repetition and practice."
It's seemingly appropriate that Daniel's mantra--for now--is to stay low.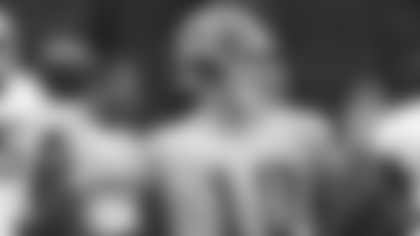 As coaches tweak his technique, Daniel finds himself at the bottom of the NFL ladder, hoping to work his way up.
Daniel joined the Redskins in late April as an undrafted rookie free agent following a prolific career at the University of Missouri.
At Missouri, he completed more than 68 percent of his passes, threw for more than 12,500 yards and tossed 101 touchdowns in four seasons.
In 2007, Daniel was a finalist for the Heisman Trophy--along with former Hawaii quarterback and current Redskins backup Colt Brennan.
In last April's NFL Draft, some draft guides projected Daniel, 6-0 and 225 pounds, as a late-round pick.
It was a mild surprise. At Missouri, Daniel's targets included wide receiver Jeremy Maclin, a 2009 first-round pick by the Philadelphia Eagles, and tight end Chase Coffman, a 2009 third-round pick by the Cincinnati Bengals.
Makes sense that the guy throwing them the ball would be highly regarded in the draft as well.
As Daniel found out, that was not the case.
"That's how it goes, you know," he said. "I'm not 6-5 [in height]. I have a strong arm--Coach Zorn told me he likes my arm strength--but I guess some people didn't seem to think it was as strong as some other quarterbacks.
"I know I can play in this league. It's just about working hard, learning the system and paying your dues as a rookie. I have a great opportunity right now. I just have to go out there and show [coaches] my talent."
Daniel's goal this offseason and in training camp is simple.
He is competing for a backup job or possibly a spot on the Redskins' practice squad.
Zorn has said that he expects Daniel and Brennan, a 2008 sixth-round draft pick, to get plenty of playing time in preseason.
It's possible they could both be competing for the No. 3 quarterback job behind Jason Campbell and Todd Collins.
Said Daniel: "I know my place here and it is just to make the team."
At Missouri, Daniel played in a fast-paced spread offense, often with three, four and five wide receiver sets. The system was designed to open up vertical passing lanes downfield.
With the Redskins, Daniel must adjust to Zorn's version of the West Coast offense, which includes short, horizontal throws.
"It's different," Daniel admitted. "There are so many variations of everything in the playbook. So you study it and get in your playbook. Every day when I get home, I'm copying down stuff as best I can and trying to learn it."
Said Zorn: "What I like about Chase is that he is serious about being good. He listens. He is getting the offense quickly, so I know he is intelligent.
"His biggest deal is trying to put the footwork to it, and that hasn't come yet. But he is making the throws to the right people. He will get more ball speed as he gets more comfortable in the offense."