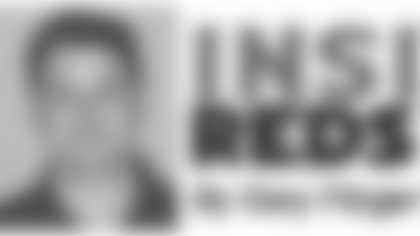 Phillip Daniels does not want his NFL career to end this way. Not after an injury that cost him a full season.
That's why he is back at Redskins Park this week, working out and running drills for athletic trainers.
That's why he is staying positive about his future, in Washington or somewhere else.
Daniels is scheduled to become an unrestricted free agent on Feb. 27.
He wants to return to the Redskins for a sixth season, but knows that he can only watch and wait.
"I feel real comfortable about coming back here," Daniels said. "I've been in this defense for nine years with Greg Blache, so I feel real good about it. I want to come back."
Any nerves about the uncertainty of being a free agent as he approaches age 36?
"No nerves," he replied. "Really, for me as an older veteran, what's on my mind is getting back and winning a championship somewhere. Hopefully it's back here. But of course, I understand the business side of it. If it's not here, then I'm pretty sure some other teams could use me, too.
"But hopefully it's the Redskins."
Daniels suffered a knee ligament injury on the first day of training camp last year. It was a devastating injury that sidelined him for the entire season.
Daniels maintained a presence at Redskins Park all last season as he rehabbed the injury.
The rehab has continued into the offseason.
He said his knee is "probably at 98 percent" right now.
Asked about his workouts this week, Daniels said: "This is like an evaluation. They wanted me to come in to see where I'm at [physically], which I didn't really need because I know I'm going to be 100 percent.
"I got hurt in July. Most guys get hurt during the season, and they only get eight months [to rehab before the season]. I will have had a full year, so I'm ahead right now where I could be."
Daniels, 6-4 and 280 pounds, is a 13-year NFL veteran. He has 59 career sacks, one interception and 16 forced fumbles in his career.
Daniels expects to be limited in off-season work, but could pick up the pace for OTAs in May and June.
Daniels is also resuming his powerlifting regimen and he hopes to participate in one competition this year. He claims he can already do a 475-pound squat.
"I'm just working my way up right now," he said. "I'm taking it slowly."
He competed in powerlifting competitions last year and he won his weight class at the American Powerlifting Federation Nationals in March 2008.
Daniels said that powerlifting has helped him as a defensive lineman by strengthening his upper and lower body, including his hips. It has helped him stay quick at the line of scrimmage.
"I have to be safe with it because I have a career to watch out for, and hopefully it's here with the Redskins," Daniels said. "I feel good doing it."