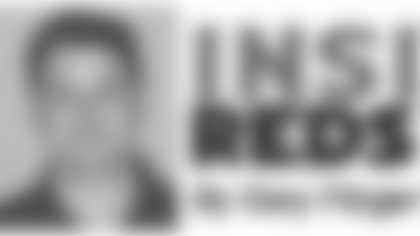 Amid a steady rain, Fred Davis leaned back to catch a Colt Brennan pass, keeping his balance along the sidelines.
It was the last day of Redskins mini-camp, on May 3, and most players were eager to head indoors to get dry.
Certainly, Davis was one of them.
Jim Zorn continued to call plays, though, and Davis was the target on several throws in 7-on-7 drills.
Davis, a 6-4, 257-pound tight end, is in his second year in Zorn's offense and he notices that he is "playing faster" than he did a year ago.
He is more confident running pass routes now.
"Last year I was new to the system," he said. "Now I'm more familiar with it and more comfortable. I can play with the speed I'm accustomed to playing at. I don't have to think as much--I can rely on my instincts and just go out there and play."
Zorn said he has noticed a difference in Davis's play.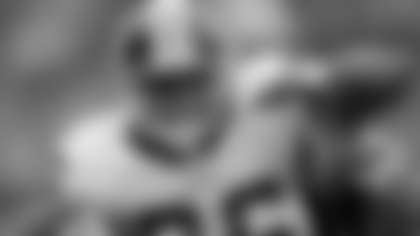 Fred Davis (Getty Images)


"He has progressed along and now he is looking forward to stepping into a role and actually playing," Zorn said. "Last year he was wondering what it was all about. He was excited to be on the team and he has kind of grown up to know to be on the football field you have to do things right and you have to play fast."
Davis is often mentioned with wide receivers Devin Thomas and Malcolm Kelly because all three were 2008 second-round draft picks by the Redskins.
Davis got off to rocky start--at least publicly--after he overslept and missed a mini-camp practice.
He was able to make a good second impression in training camp, but once the regular season started, Davis saw limited action behind starter Chris Cooley.
He played in 11 games, with two starts, and caught just three passes for 28 yards.
Davis is expected to play a larger role in 2009, particularly in two tight end sets. He needs to continue to work on his blocking skills, but Zorn said he is coming along in that aspect of his game.
"Not playing much as rookie--it made me really want to work harder," Davis said. "I'm hungry this year. I feel like coaches want me to get out there and make plays."
Davis thinks that he and Cooley are "similar players" in terms of pass-catching and the ability to break tackles.
Cooley has led the Redskins in receptions each of the last two years and earned consecutive Pro Bowl berths.
An alignment with both Davis and Cooley on the field gives Zorn the versatility to run more varied offensive sets in the passing game.
One wide receiver, two tight ends and two running backs. Two wide receivers, two tight ends and one running back. Three wide receivers and two tight ends.
Davis is excited at the possibilities.
"I feel it will be really hard for teams to try and stop us when we're both on the field," Davis said. "We are both very quick, safeties rarely hold us and we will be a real challenge for linebackers in coverage.
"As long as I keep working hard, we'll both be on the field. We'll both be sharing time. We both can catch the ball and can make people miss [tackles] downfield."