It's not often that you get a second chance at making a good first impression.
For Redskins rookie tight end Fred Davis, his second chance arrived last Sunday in the Hall of Fame Game against the Indianapolis Colts.
He caught three passes for 23 yards playing three quarters in the Redskins' 30-16 preseason win over the Colts in Canton, Ohio.
Coaches kept Davis's pass routes simple. On each completion, he ran eight yards up field, found open space across the middle, and pulled in the pass.
He was able to turn around and fight for extra yardage, something that impressed coaches.
Said Jim Zorn after the game: "We wanted to give Fred Davis the ball a couple times, and he not only caught it, but he turned up field and showed that he is a tough runner after the catch.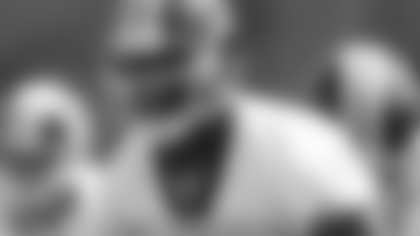 Fred Davis (Don Wright Photo)

"He did very well sustaining blocks, and we were pleased with the way he handled things 1-on-1."

Forgotten was Davis's well-documented mini-camp gaffe last May in which he overslept and missed practice. The second-round draft pick, No. 48 overall, later apologized to coaches and teammates.

During training camp, Davis has worked hard to fit in among new teammates.

"Coming back from the oversleeping [incident], I knew I needed to show what I'm about and show that I'm a hard worker.

"I just want to be able to get on the field and contribute any way I can. Whether it is blocking, or doing whatever I have to do on special teams, I am going to do whatever I have to do."

So far, Zorn has been impressed with Davis's athleticism and skills. Now he wants to see Davis understand the offense.

"I have seen speed and the ability to change direction [in Davis]," Zorn said. "He needs to get comfortable with our style of offense. The knowledge of how plays are designed and their rhythm is important for rookies to understand, and he is on his way to doing that."

As Davis continues to develop, he helps open up Zorn's offense.

A second pass-catching tight end on the field at the same time as Pro Bowler Chris Cooley gives Jason Campbell more options.

It also forces defenses to commit more linebackers and safeties to cover 250-pound tight ends.

"There's going to be a lot of passing around to everybody," Davis said. "In this offense, anybody can get the ball."

The Redskins selected Davis, 6-3 and 247 pounds, out of USC with the second of their three second-round draft picks on April 26.

He was a solid pass-catching tight end for the Trojans. In four seasons, he started 28 contests and caught 117 passes for 1,408 yards and 13 touchdowns.

He had his most productive season as a senior, catching 62 passes for 881 yards and eight TDs. For his efforts, Davis won the Mackey Award as college football's top tight end.

Davis said the Redskins' offense has some similarities to the pro style offense run by USC's Pete Carroll.

"We ran a lot of two tight end sets at USC, and they ran some of the same plays we're running here, so I'm kind of familiar with this program," Davis said. "And that makes it fun."