The Redskins had slowed the Rams' offense all game long on Sunday. It was a dominating performance, really.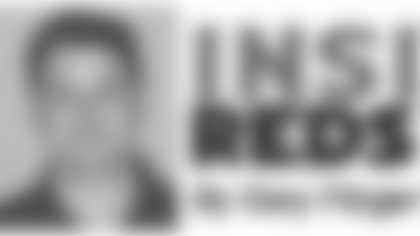 And yet, Fred Smoot believes the defense did not make enough stops at critical times.
He was proven right in the game's final minutes.
Trailing 17-16, Rams quarterback Marc Bulger threw a 43-yard pass to rookie wide receiver Donnie Avery. The play led to a 49-yard field goal by Josh Brown, giving the previously winless Rams a 19-17 victory at FedExField.
"We felt like we didn't make the plays when we needed to," Smoot said. "We have to use this as fire. We know what type of team we have."
Added LaRon Landry: "It's all about the finish. If you don't finish, everything you did before then doesn't mean anything."
Avery was able to pull up in front of Leigh Torrence, his closest defender, to make the catch.
Understandably, Torrence did not want to talk to the media after the game.
Torrence actually had solid coverage on Avery, but could not adjust in time to Bulger's pass.
"The first thing that they tell you when come into this league as a corner is that you better have a short memory," Smoot said. "You can't blame this loss on him. We had numerous times before that where we could have made plays."
Overall, the Redskins yielded just 200 yards to the Rams, 54 rushing yards and 124 passing yards. They allowed just eight first downs and 4-of-14 third-down conversions.
Chris Horton led the defense in tackles with nine, including three tackles for a loss. Anthony Montgomery and Shawn Springs recorded sacks on Bulger.
The defense bailed out a struggling Redskins offense after turnovers and sacks bogged them down.
"I was very pleased with how our defense played," Jim Zorn said. "They only got eight downs, so we were dominating there."
Added Jason Campbell: "The defense played its heart out. Even when our offense had miscues early on, the defense was there to help us out."
They could not keep it up all four quarters, though.
The defense forced just one turnover, on the Rams' opening possession. Marcus Washington stripped running back Steven Jackson of the ball
London Fletcher and LaRon Landry dropped sure interceptions during the course of the game.
Nearly a quarter of the Rams' offensive yards came on their opening series of the second half.
Running back Steven Jackson was a force on the drive, picking up 38 yards on six carries. He also caught a pass for 13 yards.
The Rams were faced with a 4th-and-4 midway through the drive--a golden opportunity for the Redskins' defense to step up.
Bulger completed a clutch 7-yard pass to wide receiver Torry Holt across the middle of the field.
St. Louis eventually scored on a 25-yard field goal by Brown-critical points because they allowed the Rams to continue to build a second-half lead.
"We have to make plays defensively," Jason Taylor said. "We had plenty of opportunities. We just didn't get it done."