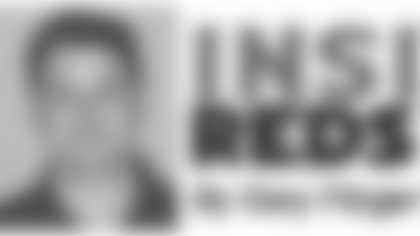 Back in Week 4, the Dallas Cowboys were the Super Bowl favorite, No. 1 on all of the power polls. Then the Redskins defeated the Cowboys 26-24 at Texas Stadium.
Things haven't been the same in 'Big D' ever since.
The Cowboys have lost four of their last six games to fall into a tie for last place in the NFC East.
This Sunday at FedExField, the Cowboys hope to get their season back on track against the Redskins, the team that derailed them.
Dallas is pinning its hopes on the return of quarterback Tony Romo, who is expected to start for the first time since Oct. 19.
Romo is returning from a fractured pinky finger on his throwing hand. His backups, former Redskin Brad Johnson and Brooks Bollinger, have been less than inspiring as replacements.
The Redskins are ready for Romo's best shot.
"Their offense is much more explosive with Romo than it has been with Brad or Bollinger," defensive coordinator Greg Blache said. "They can attack you more. It makes the running back better because now you have to worry more about the passing game. It makes the receivers better because they can throw the deep ball as well as the short and intermediate throws.
"It just gives them all of the dimensions that have been there before. I believe Dallas is going to be the same team they were earlier in the season."
The Redskins are preparing for Romo as if his finger is fully healed.
"I don't think he just started to throw a couple days ago, I think he has been working at it for a while," head coach Jim Zorn said. "So I think he's going to be normal. We can't prepare for him in the hopes that his finger is sore."
In their Week 4 win, the Redskins dominated time of possession by a 38:09-21:51 margin, keeping the Cowboys' offense off the field and out of rhythm.
It seemed like the Cowboys could never get their game plan going.
They totaled just 44 rushing yards in the game and running back Marion Barber had just eight carries for 26 yards.
Certainly, the Redskins would welcome a reduced role by Barber again.
"I think they are absolutely going to get [Barber] more involved," Zorn said. "They're going to stay with the run a little bit longer. We have to concentrate with our run defense as long as they try to put it to us. I think last time they got behind in the game and had to throw it a little more. Sometimes that happens based on the game situations."
The Cowboys enter Sunday's rematch with the NFL's 12th-ranked offense. They are ranked eighth in the run game and 10th in passing offense.
In the Redskins' 26-24 win over Dallas earlier this season, the secondary stepped up to limit the Cowboys' passing attack. Romo passed for 300 yards, but most of that came late in the fourth quarter as the Cowboys frantically tried to come back from a 26-17 deficit.
Shawn Springs and Carlos Rogers teamed up to cover Terrell Owens, who finished with seven catches for 71 yards and a touchdown.
Despite the solid statistics, Springs and Rogers were able to minimize Owens' impact on the game. At one point in the fourth quarter, Rogers provided coverage on three incomplete passes to Owens.
On Sunday, the Redskins will have to contend with another dynamic wide receiver in Roy E. Williams, acquired by the Cowboys last month in a trade with the Detroit Lions.
Williams, a former first-round draft choice by the Lions, produced strong career numbers despite playing for a struggling franchise. His size and skills are reminiscent of Owens.
In three games, Williams has just three catches for 38 yards as he acclimates himself to the Cowboys. He is expected to start against the Redskins.
"[The Cowboys] already had a collection of the most explosive offensive weapons in the league, and they added another one in Williams," Blache said. "That creates more problems for you. The last time we tried to double up on [Jason] Witten, T.O. got us. Now they have Williams on the other side and it creates more problems. We have to be at the top of our game."
The Redskins signed free agent DeAngelo Hall on Nov. 8, perhaps in anticipation of the matchup against the Cowboys' receiving corps.
Hall is expected to play 20-30 snaps, according to secondary-cornerbacks coach Jerry Gray. It could be more if Springs is unable to play due to a calf injury.
"DeAngelo can come in and play some man for us," Blache said. "He's an experienced corner who knows our verbiage so he can play zone if we want him to. So I feel very comfortable with him coming in."