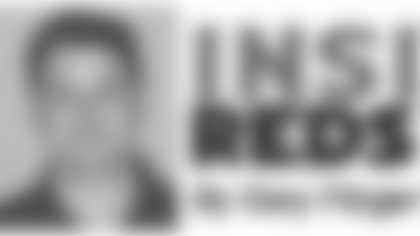 All last week in practice, the Redskins' defense focused on pressuring Arizona Cardinals quarterback Kurt Warner while disrupting the pass routes by dynamic wide receivers Anquan Boldin and Larry Fitzgerald.
Warner was sacked twice and pressured seven times in a game the Redskins won 24-17 at FedExField. He threw one costly interception that proved to be a turning point.
Boldin caught three passes for 25 yards, including a 4-yard touchdown pass in the second quarter.
Fitzgerald had a big day, with seven catches for 109 yards, but most of those yards came on a 62-yard touchdown catch in the third quarter.
Overall, it was a strong effort by the Redskins against a potent Cardinals offense.
"[The Redskins' defense] played incredible," Jim Zorn said. "They did a wonderful job. The Cardinals have a high-powered, very balanced offense. We had a hard time putting pressure on Kurt Warner, but the coverage helped us in some of the pressures that we had.
"We shut down two really good wide receivers, except for one big play, most of the day."
Rocky McIntosh turned in a strong game, leading the Redskins with 10 tackles, a half-sack (with Andre Carter) and a forced fumble. London Fletcher had seven tackles and Kedric Golston added a sack.
Carlos Rogers' interception in the fourth quarter helped set up the Redskins' game-winning score.
On the play, the Redskins were in a zone coverage with Leigh Torrence playing one-on-one on wide receiver Steve Breaston.
Warner threw a deep pass to Breaston down the middle of the field. Torrence had solid coverage. He got his hand on the pass and the ball bounded off Breaston's helmet, popping into the air.
Rogers leaped for the ball and made a diving interception.
"I was backpedaling real fast, and had to put my brakes on," Rogers said. "I didn't think I was going to get there, but it came down into my hands."
Rogers quickly got up and started running downfield. He raced 42 yards down the right sideline to Arizona's 15-yard line.
One play later, Santana Moss caught a 17-yard touchdown pass to put the Redskins ahead for good at 24-17.
Asked about the play, Torrence said he had to catch up to Breaston to make the play.
"You have to rely on your catch-up speed sometimes," Torrence said. "Thank God I had the ability to catch back up to him and I saw the ball at the last minute. It was a great play for us."
Added Torrence: "You have to relax when those plays come, because some guys might panic and get called for pass interference. You just relax, play it by the receiver's eyes, and see if you can find the ball. It is basic technique, and I just carried it over into the game."
Overall, the Redskins yielded just 197 yards passing to Warner and the Cardinals offense.
The defense may have saved its best for last.
After Shaun Suisham missed a 52-yard field goal attempt, Arizona took possession at its own 42-yard line to start a drive with 3:18 left in the game.
The Redskins forced a 3-and-out, and a punt.
And the Cardinals never got the ball back.