Make no bones about it: if DeSean Jackson had his way, then he'd be suiting up for Sunday's game against his former team, the Philadelphia Eagles.
But, for now, Jackson must test his injured left shoulder in practice over the next few days before really knowing if he'll be good to go.
Jackson injured the shoulder in the first quarter of the Redskins' Week 2 victory over the Jacksonville Jaguars. Jackson – who went up for a catch around two Jaguars defenders, one of whom landed hard on his shoulder – left the game and was diagnosed with a sprained AC joint, head coach Jay Gruden said.
"It's just one of those situations where it was a fluke incident," Jackson said. "Just the impact of the ground and the guy falling on top of me was the biggest thing. I was just irritated. To (not) finish a game like that was tough."
Jackson said on Wednesday the soreness and the swelling in his shoulder had decreased, and he is constantly working with the team's training staff to help increase his chances of playing on Sunday.
"I pride myself on not missing any games and preparing myself any and every way I can go out there and help my team," he said. "So when it comes time for the game, I'm going to do everything I can to get myself prepared and ready."
Gruden on Wednesday said Jackson did not practice, but hopes that he'll be getting reps as late as Friday, so they can make a decision for Sunday's game.
"It depends on how he feels, really, and whether or not he feels like he has full motion with the shoulder," Gruden said. "We're not going to put him out under any circumstance where he's going to be playing in pain, because that will take away from his style. He's a wreckless player, a fast player, and if he's not 100 percent, he's not worth being out there. He's a tough kid, and I think he'll get right."
If Jackson is able to go, he'll be looking to get a little revenge against an Eagles organization that released him in March after one of the best years of his career.
In 2013, Jackson earned his third Pro Bowl selection after logging career highs in receptions (82), yards (1,332) touchdowns (nine) and 100-yard games (five).
Despite putting up those numbers – and helping lead the Eagles to the NFC East title in 2013 – the team decided to release Jackson, giving the Redskins, their divisional opponent, a prime opportunity to sign one of the most dynamic players in the league.
"I'm not focused on why it happened or why it transpired or the way it happened – I'm not really too worried about that," Jackson said. "That's their decision. They made their decision. They moved on, and I moved on."
Jackson said he's been more than satisfied so far with his situation in Washington.
"They accepted me for who I was," Jackson said. "I didn't really have to prove anything to them, because they knew the type of player and person I was. So that was the best thing, and the best reason I chose to play here in Washington. My teammates are a good group of guys that go out there and work hard."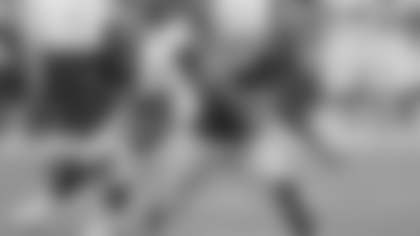 If Jackson does play on Sunday, he'll be on the opposite sideline as many of his good friends, including running back LeSean McCoy, who is "like a brother" to him. Although Jackson and McCoy talk on a daily basis, the wide receiver said the opening kickoff will put a temporary hold on the "buddy-buddy" feelings.
"My focus is more here, on this locker room, doing what we need to do to win a football game," Jackson said. "I'm not here to be buddy-buddy, and I want to win games for this football team here. Once game time comes, I could care less about anything else. Burgundy and gold are my colors now, and that's all I'm going to focus on, that's all I'm going to worry about."
Jackson said he's not sure what kind of reception he'll get from the Philadelphia fans, but whether it's all brotherly love or something less-than welcoming, he's hoping to escape with a victory Sunday afternoon.
"I felt I put it out on the line for them when I played there and I've done what I've done to help that organization win games, so as far as if they congratulate me, if they boo me -- whatever the case may be -- I'm ready for whatever it is," Jackson said. "If it's all on me, I'm playing. I don't plan on missing this game."