Only thing for the injury-plagued Redskins' offensive line to do now?
"Just push on," center Casey Rabach said.
The unit has been besieged with injuries this season, and Chad Rinehart is the latest.
Rinehart suffered a fractured fibula in the Redskins' 7-6 loss to the Dallas Cowboys on Sunday. He joined Chris Samuels (neck) and Randy Thomas (biceps) on injured reserve on Monday.
"It can be disheartening, but for us as competitors you have to stay focused. Individually, you have to keep grinding every day and do your part," guard Derrick Dockery said.
With Rinehart on the sidelines, the Redskins are expected to slip in Mike Williams in at right guard--if Williams is healthy enough to play, that is.
Williams has missed the last two games with an ankle injury.
Asked about his rehab on Monday, Williams said it remains a "work in progress."
"I'm plugging away," he said. "I'm getting better. It's highly unfortunate that we've had all these injuries, but it's part of being on a team. Guys have to step up. The guys who are injured--I'm one of them--have to get back and do what they can.
"I'm going to spend a little extra time in the trainer's room and you try to get back and help this team. I'm confident that I'll get back on the field."
If Mike Williams is unable to play this Sunday against Philadelphia, then rookie Edwin Williams would make his first NFL start.
When Rinehart suffered his injury on Sunday in Dallas, Edwin Williams came in and played in his first NFL game.
He admitted to nerves before his first snap.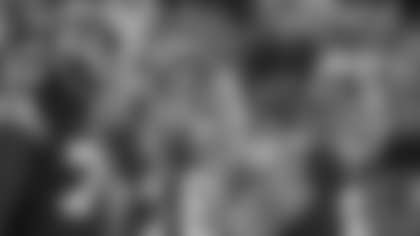 "To be honest, I wasn't nervous at first," he said. "I am usually 'Mr. Anxiety.' Then I got in the huddle and everybody was like, 'You've got to go out there and punch people in the face, play hard, keep your head back!'
"And then I was like, 'Okay, I'm nervous now.' I think that first snap was pretty intense. It was so quick, but after a while I think I got in a groove and started to play better."
Meantime, Stephon Heyer has been a regular on the injury list as well with a sore knee.
He has been able to start every game, although he has had to alternate between left and right tackle.
Dockery and Rabach are the only Redskins offensive linemen to start every game at the same position.
And then there's Levi Jones, who has helped solidify the offensive line the last two games.
Out of football a month ago, Jones has impressed against two elite pass rushers in Denver's Elvis Dumervil and Dallas's DeMarcus Ware.
Jones has played so well that he could earn himself a job with the Redskins next season, according to offensive line coach Joe Bugel.
"I think football's real important to him," Bugel said. "I think he realizes this is an audition for him and he's going to play his rear end off. I like guys like that. He came in and he was no-nonsense.
"He just didn't want to be part of the scout team. He said, 'Buges, I came here to start.' I told him, 'Hey, stick around, the way we get injured, you may be in there tomorrow.'"
Last week, before the Rinehart injury, Zorn praised Bugel for keeping the unit together.
The pass protection units allowed just one sack amid a barrage of blitzes on Sunday in Dallas.
"I think some of Joe Bugel's best coaching is coming out," Zorn said. "When your back is against the wall and you have to perform--I think that is what Joe Bugel has been doing. With all of the different changes and all of the styles of play that these guys have, he is trying to get one style of play, and it's very difficult.
"As a coach, he is having a great year, believe me. He is working hard and really coming through for us. He gets up for practice, too. He is really upbeat. He loves it long and he loves it physical."