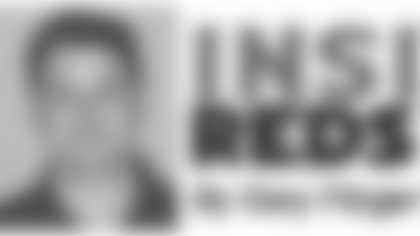 Jason Campbell seems different.
Considering the uncertainty in his life the last two months, a change in demeanor is understandable.
He was the subject of trade rumors for former Denver quarterback Jay Cutler, now with the Chicago Bears. Then he learned the Redskins considered trading up for USC quarterback Mark Sanchez in the NFL Draft.
It would be enough to make anyone feel insecure about their place in the Redskins organization.
Instead, Campbell has had more of a determination and confidence about him during the team's three-day mini-camp.
This is Campbell's fifth NFL season, fourth as the Redskins' primary starter and second in Jim Zorn's offense.
This is also shaping up as a critical year for Campbell. He could become a free agent following the 2009 regular season.
"There has been a lot going on this offseason, emotionally and mentally," Campbell said. "I'm at a point now where I have to put all of it behind me. I can't be out on the field trying to earn a new contract or prove a certain point. I'm just going to do what I do--and do it better this year."
Campbell has tried to keep the focus on himself as a leader and helping his teammates achieve their goals.
"This is professional sports and this is my job, so you understand that it's business," he said. "As a player, you have to realize that you're not in control of every decision. So the one thing you have to do is prepare yourself for every situation.
"My teammates are counting on me. They're counting on me to come out here, perform at a high level, continue to compete and not let anything distract me.
"To me, it would be unfair to them if I wanted to act in a rebellious way or if I wanted to act mad. It's not hurting me, it's hurting them.
"That's not what I want to do. I want to make sure I'm doing all of the right things I need to do in order for us to win games."
Zorn praised Campbell in a team meeting on Friday for how he has handled the offseason.
Zorn said he has witnessed a "take charge" approach in Campbell.
"That's the maturity of a player that we want to have," Zorn said. "I brought the whole thing up in our team meeting. It was just to say that Jason has had a tough offseason so far with all of the things swirling around him.
"I just commended him for dealing with it in a real positive way. He has taken that to the field and we're moving on. He's getting ready to play."
Now that on-field work is underway, Campbell can put the uncertainty aside and focus on improving as a quarterback.
He is working on dropping back quicker and altering his throwing motion to improve his release time.
"I'm trying to be explosive under center and learn a technique of pushing the ball back at the end of my drop so that I'm able to release the ball quickly and not have as much of a windup," Campbell said.
Campbell was worried that tweaking his technique would "feel awkward" at times during mini-camp.
So far, Campbell has been sharp, by all accounts.
"Mini-camp is all about getting back to technique and fundamentals, working on offense and trying to maneuver in the reads," he said. "Once training camp comes around, you take another step. Once the season comes, you try to put all of those things together for game one."