Derrick Dockery knows life is not a straight line. There are bends, twists, reverses.
The Redskins guard began his career in Washington in 2003 as a third-round draft pick out of the University of Texas. He needed only three weeks of his rookie season to become the starter.
There he remained for four seasons. Entrenched in the trench.
Free agency beckoned in 2007 and Dockery answered its siren call, signing with the Buffalo Bills. But after two seasons on the shores of Lake Erie, Dockery was released when the team decided to overhaul its line and its offensive philosophy and he quickly accepted an offer to rejoin the Redskins.
Some things are the same and some are different after a couple of years elsewhere. A new coach, new teammates, changed responsibilities. Dockery is no longer the youngster trying to learn the basics of the pro game but one of the elders.
"You can try to plan your life out a certain way but life throws you curveballs and I'm back here," he says. "A piece of my heart was here. This is where I started. I have a great amount of respect for the people on this team, the people in this organization, and how they treated me."
Many of those people remain but not in the same capacity. Dockery's great friend, Chris Samuels, was his partner on the left side of the line in his first four seasons and through five games of 2009.
Samuels, however, suffered a neck injury and was placed on injured reserve, joining Randy Thomas, the other opening-day starting guard, on the sidelines. Thomas tore his triceps in Week 2.
"It's been difficult to have two of your veterans, your leaders in Chris Samuels and Randy Thomas, go down. But this is the National Football League. People are going to get hurt," Dockery says.
He counted on being one of the younger members of a veteran group. Now he's one of the old pros. He and center Casey Rabach are the only offensive linemen to start every game at the same positions.
"It is not what I expected," Dockery says. "You have a Pro Bowl left tackle and a guy in Randy Thomas who is in my mind a Pro Bowl guard even though he has never been, and they go down. Other people have to step up."
Thomas says he was "ecstatic" when the Redskins brought Dockery back and he wasn't too surprised to see him come through the doors of Redskins Park.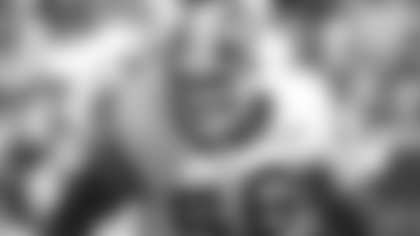 "He knows what he learned and where he learned it," Thomas says. "I respect a guy like that."
Still here, and still endlessly in Dock's ear, is offensive line coach Joe Bugel.
"I don't think I have ever been around a guy I appreciate and respect more than Derrick Dockery," says Bugel, in his 32nd season of coaching in the NFL. "In the four years he was here previously, he never missed a practice, never missed a game. He went to Buffalo for two years and came back. He's never missed a game, never missed a practice. He's an ironman."
In Thomas' and Samuels' absence, veterans must show the way. Dockery, Bugel says, does so in his own quiet fashion.
"He's a great leader because he's not a foul-mouthed guy and he's in every meeting. He has a great relationship with Chris Samuels and they were like hand in hand over there on the left side and I think he misses Chris a lot," Bugel says.
The 6-6, 326-pound Dockery has started 107 consecutive games in the NFL (entering Sunday night's contest against the Dallas Cowboys), all but 32 of them for the Redskins.
He shows up. And he shows up for more than football.
Dockery and his wife Emma, working with tight end Chris Cooley and his wife Christie, anchored the Redskins' involvement in the NFL's Breast Cancer Awareness programs last October, along with Tanya Snyder, the wife of Redskins owner Daniel M. Snyder.
The Dockerys and Cooleys hosted an event at Redskins Park for breast cancer survivors and took part in another on Capitol Hill with Mrs. Snyder.
For Dockery, this is a critical mission. His mother survived breast cancer but his aunt did not and his wife lost her mother to the disease as well.
"Any time you can get awareness out for a special cause, it is important to do it. Cancer has touched everyone, somewhere, somehow," he said. "Any way you can get the message out about getting the exams, getting tested, we will do it. This has hit my home, my wife's home and you realize what you've lost when it's gone."
That's Dock. Knowing how to appreciate what he has.
That's why he could be found reading to kids at the 2009 Easter Egg Roll at the White House. There he was, working with the Redskins Charitable Foundation in his first go-round in Washington and now in a cause so important to his family.
Active, engaged, and home.
"A piece of my heart was always here," he says. "I'm glad I'm back."
---
Larry Weisman covered professional football for USA TODAY for 25 years and now joins the Redskins Broadcast Network and Redskins.com to bring his unique viewpoint and experience to Redskins fans. Go to Redskins.com for the Redskins Blitz column and NFL Blitz on Friday. Larry also appears on The Jim Zorn Show on WRC-TV on Saturday night, on Redskins Nation, airing twice nightly on Comcast SportsNet, and on ESPN 980 AM radio, all in the Washington, D.C. area. Read his blog at redskinsrule.com and follow him on Twitter.com/LarryWeisman.