Fresh off an internship with the Huffington Post, former NFL wide receiver Donte Stallworth is continuing to pursue journalism and helping athletes learn from his mistakes
"I feel like I have my whole life ahead of me," says Donte Stallworth, 34, a longtime wide receiver in the NFL.
He says it with such enthusiasm you have to believe him. And why shouldn't you?
Since retiring from the league two years ago, ten years removed from the age of most college graduates, he's approached life just like one: nervous, excited, eager to begin the next phase of his life.
That's how it seems Stallworth is embarking on his second career (he admits that while he may be "old" in the context of the NFL, he's got much more life to live), starting where most college seniors do, at the ground floor.
Stallworth, now without his signature locks, just finished a six-month fellowship, essentially an internship, with the Huffington Post covering national security and politics in Washington, D.C. He worked full time as a reporter, gaining invaluable writing experience with a professional team of editors, and quickly learned about the dedication required in covering a beat.
It was a humbling process – one many former players would never consider – but Stallworth was open to the challenge.
"That's what I wanted," he said on a recent visit to Redskins Park in Loudoun County, Va. "I needed to build a foundation and start from the bottom and grow from being someone who had no journalism background to learning the most important aspects of journalism: how to write a story, how to get sources, how to speak to people just in different situations. It's been a big learning experience but there's so much more that I have to learn. Being able to be in D.C. and learn from the people in that office there, the Huffington Post, has been extremely valuable in my pursuit of a journalism career."
His passion – for writing and politics -- started at an early age. Stallworth remembers penning stories, plays and movie scripts as a kid, though he distinctly recalls wanting to be an astronaut first – his parents bought him a telescope before a football. Throughout school, he enjoyed studying history, a subject that fascinated him into his playing career.
In 2008, he watched President Obama get elected as the first black U.S. President, an historical convergence with politics that was captivating for a variety of reasons.
"Once I got to learn more about him I thought he had a pretty intriguing story and pretty interesting background," Stallworth says. "I wanted to know about him, who his advisors were. He obviously didn't have a lot of experience so I wanted to know, 'Okay if this guy is going to be our president, who is he learning from? Who is teaching him foreign policy? Who's teaching him about all these different subjects that he doesn't have much experience in, if any?'"
Stallworth, who played with the Redskins for parts of two seasons, as well as the Patriots, Eagles, Ravens, Browns and Saints, the team that drafted him, was always aware of life outside of football. He'd tell teammates not to vote for Obama just because he was black. "Don't agree with everything your President does or says. That's more of a dictatorship than anything," he says.
By the time he was waived by the Redskins prior to the 2013 season, he was already caught up in the "D.C. web." The next fall he was starting a new career, just blocks from the White House, getting advice from seasoned journalists and learning a new vernacular.
"It was perfect," he says. "It was perfect that I got to go to the Pentagon often. I had my press pass to go there, my press badge to go to [Capitol] Hill and even made a couple trips to the White House. Sometimes I actually would forget that I was working. Walking around the Pentagon, looking around, 'Wow, man, this is amazing. Oh wait, I got to get back the office and finish the story!' It was, in some ways for me, natural. It was something obviously uncommon for a football player to be covering politics."
Football, however ironically, has helped him shed that stigma.
He learned not to care about talk, the cheap kind, because the merits of his sport require productivity on the field. It's helped him block out the extra noise, the kind about being privileged with a job by the Huffington Post just because of his celebrity status. It's helped him deal with the people who confront him, sometimes for good reason, on Twitter, when he posts an unpopular belief about the country.
Some of Stallworth's tweets, after he had begun to establish himself as a real voice on foreign politics, even sparked the attention of journalist Glenn Greenwald and author/producer Jeremy Scahill. Stallworth became close with both of them over Twitter around the time of the Edward Snowden revelations.
"I think [what] both caught their attention [was] that a professional athlete was tweeting about things they cover on a daily basis," says Stallworth, who later met with Scahill when his documentary Dirty Wars was released. "You look at it, athletes don't really do that. Not because I'm saying that I'm more outspoken or special than anyone else, but I just try to be as respectful as I could -- but I felt strongly about something and if I feel strongly about something then I'm going to talk about it. That's just how I've always been."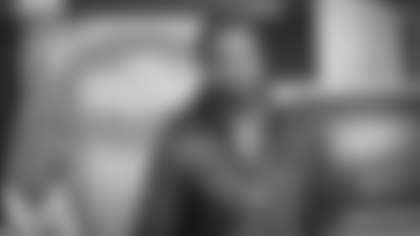 These are the new celebrities in Stallworth's life. He has played in a Super Bowl – as a member of the nearly undefeated Patriots team in 2007 -- and has met NBA stars Michael Jordan and Kobe Bryant, to name a few.  But now, he's just as thrilled about calling Navy SEALS and ambassadors his friends.
He hopes that can continue as he wades through the uncertainties of being unofficially unemployed. But there is an ease as he talks about his future, about a career path that keeps broadening to include sports broadcasting, political journalism or, ideally, both.
Maybe it's the jogging, which he's been doing a lot of lately on the National Mall near his home. It clears his head. The more likely case, the one that seems to be a continual source of confidence, is by remembering all of the adversity and pain he has overcome, and the positive outcomes that have spawned from his personal struggles.
Ever since a fateful night in 2009, when Stallworth, drinking and driving, hit and killed a man with his car, landing him in jail for 30 days, he has begun speaking about his experiences. Working through the NFL on numerous occasions, he's addressed student-athletes and advocated with Mothers Against Drunk Driving. He attends the NFL Rookie Symposium annually, as he did this past June, and is hoping to speak to every team at some point over the next few years.
"I want to be something guys can look at so they don't make some of the same mistakes I did," he says. "So, any way I can to help these guys, in whatever capacity I am, I am definitely open to it."
He got a taste of teaching after he retired from the league, when he took the Bill Walsh internship with the Ravens. During the preseason he spoke with visiting teams, including the Redskins, and has developed stronger bonds with players who reach out to him as they ponder the ends of their NFL careers.
"A lot of guys reach out to me and just want to talk about life after football," Stallworth says. "Even guys that are still playing. I talk to Steve Smith often. We go back to 2002 and one of the things that I saw when I started my internship with the Ravens last year was, after we caught up with everything – how's the family doing, how's everyone doing – the first thing he asked me was 'How is it?' And I knew exactly what he was talking about. We weren't even talking about not playing or retirement or anything, and he just asked me 'So how is it?' and I knew exactly what he meant. And when I was telling him, I could see his eyes lighting up like 'I can't wait to retire. Like I love football and playing, but when it's over, it's over and I'm going to be with my family and I'm going to move on.'"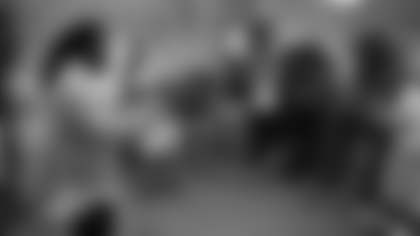 The average lifespan for an NFL player is about three and a half years, something Stallworth knows many players rarely think about by nature of the job.
"You're focused on the next practice, you're focused on the next game," he says. "So it's difficult to look 20-30 years, 15, 10 years down the road for a lot of guys."
Right now, it's hard for Stallworth, who says things like, "My whole life, I've never wanted to be stagnant" and wants to honor those long-held statements.
He has his role models, former players that show him what being successful after the NFL can be like: "I saw what Michael Strahan was doing and he's just attacking everything and I love that. I'm not extremely close with him, but we are friends and I admire him, everything that he's done. He's just grabbed life by the horns."
But Stallworth's multiple ambitions – covering sports and foreign affairs -- don't have easy categorization or a job description. At some point, with the connections he's made and the experiences he's had, he hopes to find his way, however unique and unprecedented it may be.
"The pathway I'm figuring out now is figuring out how to do both of those [jobs]," he says. "There is no blueprint for that. No one's doing it. So I have to figure it out."