In October 2008, Reed Doughty sat in a doctor's office wondering if his NFL career had come to an end.
It was his third season in the league, and Doughty had suffered a back injury. The prognosis was grim.
"It was really hard. Just mentally, you have a family. You start thinking, 'Geez, should I start thinking about other avenues?'" Doughty said.
For a player whose journey to the NFL read like a Horatio Alger story, it was only the latest in a long series of obstacles. Little recruited out of high school, a Division 1-AA athlete, a late-round pick and now a potentially career-ending injury.
"It was pretty scary because some people said you may not play again, you may not be the same player you were," Doughty said.
For many this would have been the end of the line.
For Doughty it was simply a new beginning.
Doughty had his surgery that October and was placed on injured reserve, missing the rest of the 2008 campaign.
With a long winter of rehabbing in front of him, the words of his doctor gave him hope.
"The doctor said, 'I think you're going to be better than you were before,'" Doughty said.
Now Doughty had to put in the work to prove his doctor right.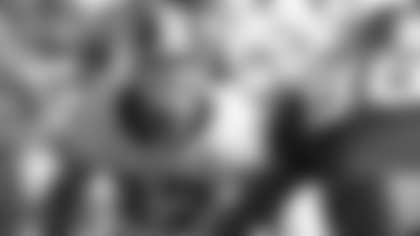 "I had surgery in October and once December hit I had been working out from December to the season." Doughty said. "I didn't have that normal lull of time off, so I just really did exactly what the doctors told me. I was very diligent with all that kind of stuff. It worked."
With the help of the surgery and his hard off-season work, Doughty felt that he was finally ready to prove to everyone that he could play in the NFL.
"I just wanted to prove to them that I was completely healthy and not just healthy but that this was going to be a breakout year for me," Doughty said.
In Week 3 vs. Detroit, Doughty's hard work paid off. The safety made several big stops on special teams and on defense, racking up seven tackles, six of them unassisted.
Defensive coordinator Greg Blache eventually made the decision to start Doughty over second-year player Chris Horton. The duo have alternated starts since then, with Horton starting last Monday's game vs. Philadelphia.
Doughty's return to the starting lineup wasn't announced with a grand proclamation in the defensive meeting room but with a small switch to an Excel spreadsheet.
"We came into meetings on Wednesday and I was looking at special teams stuff and I noticed I wasn't on punt block and return," Doughty said. "I said to myself, 'I've been playing pretty well in that role' and I saw Chris was on it instead of me so I figured they had made that switch."
While a flip like that may cause issues with other players, the relationship between Horton and Doughty is still strong.
"Chris and I sit together in meetings. We talk a lot, we help each other out. There was really no animosity towards each other," he said.
Their friendship was on display on the field in Week 4 against Tampa Bay.
Horton recovered Buccaneers running back Clifton Smith's fumble, effectively ending the game against the Bucs and allowing Washington to escape with a win. Who was the first Redskin to celebrate with him? Doughty.
"You want to see people that you battle with, who you work out with in the off-season, who work hard, you want to see them do well," Doughty said.
In the coming weeks, Doughty said he wants to see the defense transform itself with an attitude adjustment.
"No matter what the call is, be aggressive in that call, whether it's zone, whether it's blitz," Doughty said. "You hear blitz and you think that's aggressive and zone you feel that's backing off and you can't play it that way."
After overcoming injury and adversity, Doughty's thoughts no longer linger on back pain.
Instead, he is engrossed on play calls and on-field assignments.
"Last year, I don't think I was the player I could have been because I was more focused on how to get ready for the game than what I was supposed to be doing," he said. "There was always this, 'Ahh, am I stiff today? I can feel this.'
"But this year, it's, 'What do I have to lose?'"