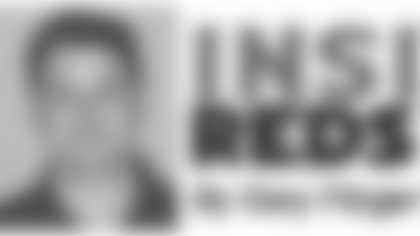 Reed Doughty was back on the Redskins Park fields in May, practicing with the defense for the first time since his 2008 season ended due to a back injury.
Doughty is full-go for mini-camp and OTA practices this offseason, which means that he is back in the mix for a starting job at strong safety.
With the Redskins not re-signing veteran Mike Green, Doughty suddenly finds himself as the veteran safety on the roster.
Doughty enters his fourth NFL season upbeat about the competition for playing time with Chris Horton and Kareem Moore, both second-year safeties. The only certainty is that LaRon Landry, a 2007 first-round draft pick, is guaranteed a starting job.
Horton started 10 games in place of Doughty last year and was working with the starting group during mini-camp and OTAs.
That hasn't deterred Doughty.
"I feel good about our group," Doughty told Larry Michael during a recent broadcast of 'Redskins Nation' on Comcast SportsNet. "We all get along really well, and that's fun.
"Chris and I know we're competing, Kareem knows he's competing, and whoever plays the best is going to be on the field on Sundays. That's fun when there's no animosity.
"We all have a lot of upside, so we're only going to get better as a group."
Doughty was an unrestricted free agent earlier this offseason after the Redskins declined to tender him a restricted free agent contract.
He negotiated with several NFL teams, according to published reports, but ultimately decided to return to the Redskins.
Doughty originally joined the Redskins in 2006 as a sixth-round draft choice.
He first earned a starting assignment in November 2007 after Sean Taylor was injured. He continued to start following Taylor's tragic death.
Last year, Doughty was the starter before he was slowed by the back injury. He played in four games, with three starts, and posted 18 tackles (15 solo). He also logged three special teams tackles.
For his career, he has played in 30 games, with nine starts, and logged 72 tackles (47 solo), 38 special teams tackles and a half-sack.
Even though Doughty is the veteran of the safety group now--he is two years older and has one more year of experience over Landry--he does not feel like he has "arrived" as an NFL player.
"Really, for me it has been a constant learning curve," Doughty said. "When you think you have learned enough to play, you have to take it to the next level--to start.
"And then when you start, you want to take it to the next level and play great. So you never arrive."
This offseason, Doughty is focusing on improving his skills in press coverage.
"It's something I don't work at much," he said. "Usually I play more off coverage."
More and more, strong safeties are being put in position to cover wide receivers and tight ends on pass routes.
So Doughty needs to show coaches he can be more versatile.
"You always want to make a goal for yourself each offseason of what you want to get better at," he said. "You always want to put more things in your repertoire."