When it comes to transitioning to a 3-4 defense, linebacker Chris Draft is the voice of experience.
In 2002, Draft played for the Atlanta Falcons when new defensive coordinator Wade Phillips installed a 3-4 defense.
Now Draft, entering his 12th NFL season, is part of a Redskins defense that spent the offseason implementing the 3-4.
He knows what it takes to make the transition a successful one.
"It's important when you put in something new that the players develop a feel for it," Draft said. "You say 3-4. you say 4-3, but really a lot of the calls and how you run the defense is going to be based on personnel. Where you fit in on a defense is going to be based on personnel.
"So it's important that we get enough reps together, play off each other and know where we're going to be. We need to be a tight unit, and we are."
Draft said he had two of his best seasons playing in the 3-4 in Atlanta.
In 2002, he had 66 tackles, 3.5 sacks and two interceptions for a defense that improved from 30th in the NFL to 19th.
A year later, the Falcons' defense struggled again, but Draft was a standout, starting all 16 games and posting a career-high 124 tackles.
He said that switching to a 3-4 from a 4-3 is a typically challenge for the front seven.
There are new assignments and new responsibilities, as well as a new mindset for defenders.
Blitz the quarterback, engage offensive linemen, drop back in coverage.
"I can play a few different positions," he said.
It's why the Redskins added him to the roster on May 7, just before the team's second mini-camp.
Draft entered the NFL as a 1998 sixth-round draft pick by the Chicago Bears. He has also had stints with the San Francisco 49ers, Falcons, Carolina Panthers, St. Louis Rams and Buffalo Bills.
Draft played for current Redskins defensive coordinator Jim Haslett in St. Louis from 2007-08.
Haslett has Draft lining up at inside linebacker in his version of the 3-4.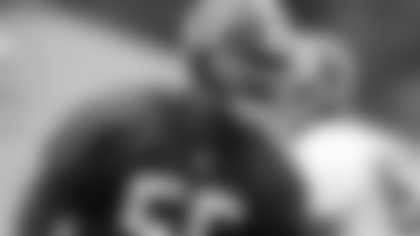 "You want a guy who is going to be a sound tackler, be able to get inside pressure and then definitely be able to cover" at inside linebacker," Draft said. "We're going to be aggressive the way we run the defense. Everyone has to be able to run, and everyone has to be able to make plays."
Draft's experience in the 3-4 is invaluable, of course, but he also is among a host of veterans brought in this offseason to add more professionalism inside the locker room.
"It's important that everyone sees how I have been in the league for 12 seasons and that I lead by example," he said. "Working out in the weight room, watching extra film, spending extra time in the training room, things like that.
"If we can do the little things, stay healthy and be more focused, then we have a chance to be successful."
And don't be surprised if there are immediate dividends, Draft added.
"Looking at the history of the NFL, you can see very clearly that if you change your mindset and you change a few players, that first year [of a new coaching staff] great things can happen," he said.