It's just one preseason game, but members of the Redskins' 2008 draft class stood out in the 30-16 win over the Indianapolis Colts.
Second round wide receivers Devin Thomas and Malcolm Kelly were sidelined with hamstring injuries and safety Kareem Moore was limited coming back from a knee scope.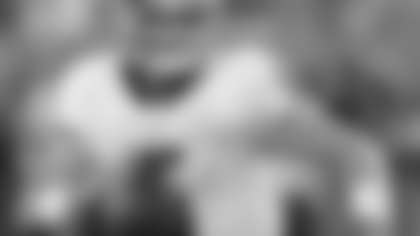 Colt Brennan (Getty Images)
The other seven draft picks saw significant action, especially in the second half.
-- COLT BRENNAN, QB
The Redskins turned to Colt Brennan at the start of the second half. Seeing his first NFL action, Brennan was impressive guiding the offense downfield on his first drive. He converted a key 3rd-and-7 play by throwing a 34-yard pass to Billy McMullen.
Brennan capped the drive with a 20-yard touchdown pass to Maurice Mann in the left corner of the end zone. Mann made a diving grab to pull in the pass one step ahead of a defender.
On his next opportunity, Brennan led a 15-play, 88-yard drive that consumed more than seven minutes of game clock.
On a 3rd-and-4 at the Colts' 5-yard line, Brennan rolled right and waited for a receiver to get open. He saw Mason at the goal line and threw a quick pass. Mason grabbed it and broke a tackle, turning into the end zone for the score.
Overall, Brennan completed 9-of-10 passes for 123 yards and two touchdowns.
On Monday, Jim Zorn liked what he saw in Brennan, but stressed that the sixth-rounder was a work in progress at quarterback.
"Colt had a couple plays where [the pass] could have gone either way [in terms of being intercepted]," Zorn said. "He has to be a more disciplined quarterback and not risk as much as he risked during the game."
-- DURANT BROOKS, P
The Redskins decided to give Brooks an opportunity to punt the entire game. Brooks, a sixth-round pick, is competing with Derrick Frost for the Redskins' punting job.
"We wanted to see if he could handle it," Zorn said. "He punted very well. There were no shanks."
On his first punt, Brooks tried to drop the ball inside the Colts' 5-yard line, but it landed in the end zone instead.
For the game, Brooks totaled four punts for a 46-yard average, with a long of 54 yards. He placed two punts inside the Colts' 20-yard line.
Brooks also served as holder on field goal attempts. The Redskins had just one field goal opportunity, a 39-yarder by Shaun Suisham. The kick sailed wide right.
Zorn said the fault on the play did not lie with Brooks.
Still, Zorn said he hoped to give Brooks more of an opportunity to establish himself as a holder for Suisham.
-- FRED DAVIS, TE
Second-round pick Fred Davis posted three catches for 23 yards against the Colts.
On each route, Davis ran 5-8 yards up the field, found open space, and pulled in the pass. He was able to turn around and fight for extra yardage.
"I wanted to try to get him the ball a couple times," Zorn said. "He not only caught it, he turned up the field and showed he was a tough runner after the catch."
Zorn also praised Davis's blocking during the game, saying he handled 1-on-1 blocking very well.
-- CHRIS HORTON, S
Chris Horton, a seventh-round pick out, was seemingly all over the field, on defense and special teams.
On the opening kickoff, Horton alertly pounced on an on-sides kick, helping set up the Redskins' offense in Colts territory.
In the second half, Horton twice blitzed into the backfield and sacked 6-4, 285-pound quarterback Jared Lorenzen.
Horton finished with five tackles in the game.
-- ROB JACKSON, DE
With Jason Taylor and Andre Carter both sitting out the Hall of Fame Game, Rob Jackson earned a start opposite Demetric Evans at defensive end.
Jackson made an impact early. In the first quarter, he swiped a block by tight end Gijon Robinson and chased down quarterback Jim Sorgi for a sack. It cost the Colts six yards.
In the third quarter, Jackson broke free and sacked quarterback Quinn Gray. However, he was flagged for an off-sides penalty and the sack was nullified.
Jackson was the Redskins' seventh-round draft pick in last April's NFL Draft.
-- CHAD RINEHART, OL
Chad Rinehart, the Redskins' third-round pick, played both tackle and guard during the game. He held his own against the Colts' defensive line.
"I thought he did an excellent job for a young guy," Zorn said. "He was really aware what's going on. As he continues to get more reps, he will continue to improve."
Zorn indicated that Rinehart could "be a factor" this year because of his versatility. He could back up at both guard and tackle positions.
"I wish we could keep at one position," Zorn said. "For a rookie to come in and play both positions and do decently, we're pretty excited about that."
-- J.T. TRYON, CB
Of all the rookies, J.T. Tryon was challenged the most by the Colts offense. The fourth-round figured he would be targeted--that's just the way it is for rookie cornerbacks in the NFL.
Early in the game, Tryon broke up a 4th-and-1 pass to give the ball back to the offense. For the game, he finished with four tackles.
Late in the second half, Tryon fought for position on a deep pass downfield, but the Colts receiver caught the ball. Tryon was flagged for pass interference, but the penalty was declined.
"He was mad at himself--I was talking to him about [the play], and he just didn't get in position," Zorn said. "Those are things that, as he continues, he'll gain more confidence to make that play."
function showChatBox()
{
    var chatWin = window.open(â??/aolchat/popup.jspâ??, â??_blankâ??, â??width=350,height=509,toolbar=0,directories=0,menubar=0,status=0,location=0,scrollbars=0â??);
    if( chatWin == null ) {
        alert(â??The chat window could not be opened. Please check your popup blocker settings.â??);
    }
}