Interim head coach Bill Callahan took his time naming a starting quarterback against the Buffalo Bills. Case Keenum remains in the concussion protocol, and Callahan wanted to see what his prognosis would be before Sunday's game. He even said Keenum could start without practicing throughout the week.
However, rookie Dwayne Haskins has taken all the first-team reps in Keenum's place, and on Friday afternoon Callahan made it official: Haskins will make his first-career start against the Bills.
"We've seen him progress throughout the week and I think that's the big thing," Callahan said. "His improvement from day to day, situation to situation, from drill to drill. You see nothing but locked-in focus."
As the 15th overall selection of this year's NFL draft, Haskins was taken by the Redskins with the notion that he would be the franchise quarterback sometime in the future. The team has been cautious with his development, though, electing to let him sit and learn from Keenum and fellow veteran Colt McCoy.
But Haskins has been put into games twice this season, the first of which being against the New York Giants when he replaced Keenum in the second quarter. Haskins drove the offense down to the Giants' 3-yard line, setting up a field goal, but could not lead the Redskins to any more points in an eventual 24-3 defeat. Haskins finished the game 9-of-17 for 107 yards and three interceptions.
Haskins was on the field again against the Minnesota Vikings when Keenum was put into the concussion protocol at halftime. He connected with Adrian Peterson on a quick strike for a 21-yard gain, but his overall performance (3-for-5 for 33 yards and an interception) was not enough in the Redskins' 19-9 defeat.
Callahan said there are sure to be growing pains for almost every rookie quarterback, but he pointed back to Haskins' preparation this week, which made the coaching staff confident he could handle Sunday's game plan.
"He poured a lot of time into it, and you could see it come through in the classroom and also on the field," Callahan said.
It's worth pointing out that Haskins was put into games where he had to come from behind to get a win. He also had limited reps with the starters in practices leading up to those games. But now Haskins has gotten a full week under his belt, which should help him Sunday.
"It's very important, it means a lot," Haskins said on the significance of getting all the reps in practice. "Just playing in rhythm, seeing it on the field instead of not knowing what it looks like helps out a lot."
His teammates have noticed the improvement, too, with offensive tackle Donald Penn saying Wednesday that Haskins looked good as the starter in practice.
"He's coming up pretty well," Penn said. "I thought he did a good job taking a grasp of the huddle and taking control of the offense. Hopefully he keeps going off that because we're going to need a big game out of him."
Penn has seen his share of rookie quarterbacks in his 12-year professional career. He was with the Tampa Bay Buccaneers for Josh Freeman's first start in 2009 and Mike Glennon's in 2013. He was also with the Oakland Raiders in 2014 when Derek Carr made his first start.
Penn said Carr was the best rookie quarterback he has ever played with, but he also believes that Haskins is going to be just fine moving forward.
"I think he's excited, too," Penn said about Haskins making his first start. "I think he's trying to hold it in, but I think he's really excited and juiced for it, which he should be. It's his first start."
It's true that Haskins has had a calm demeanor about him all week, and he seems to be approaching this game as he would for any other on the schedule.
"Every day is a challenge, every game is a challenge, every time I put my helmet on, it's a challenge," Haskins said. "So I'm looking forward to conquering that challenge every day."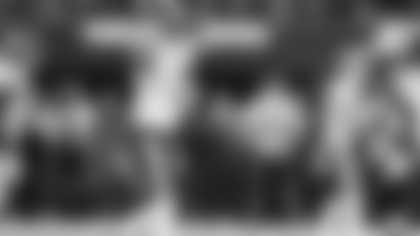 Penn's biggest job Sunday will be keeping Haskins comfortable in the pocket.
"That's all I'm trying to do," Penn said. "Try to make it as easy as possible and make [the pocket] as clean as possible because that Buffalo [defensive] front … is good. He has his work cut out for him. We all do."
Buffalo has the third-stingiest defense in the league this year, allowing an average of almost 304 yards per game, and has caused 11 turnovers.
"They do a whole bunch of different stuff," Haskins said. "So it's just a matter of executing. They play man, play zone, they play pressure. They're very talented, [so we're] just trying to put together the best game plan to attack their weaknesses and their zone coverages."
One of the benefits of getting all the practice reps is that the offense can devise a game plan specifically around Haskins to increase his comfort level Sunday. It's possible that could include plays from his time at Ohio State, but he's ready to run whatever the coaches come up with.
"Whatever the coach puts in, I'm going to love it and work as hard as I can to master it," he said.
Haskins also said the increased reps in practice hasn't changed his mindset. He's just excited to keep working towards becoming the Redskins' franchise quarterback.
"Next step in my progression [is my] first start, and we'll see how it goes from there."