---
---
The following story is based on interviews between Dwayne Haskins Jr. and Redskins.com staff writer Zach Selby.
It was April 25, 2019, and the Washington Redskins were on the clock. Friends, family and mentors surrounded me as burgundy and gold flashed on the screen.
I was actually in Nashville before the NFL draft for some marketing opportunities. People asked, "Why are you going home?" The answer was simple: family is very important to me. You can only take five people to the draft, and I have at least 15 cousins.
Instead, I decided to rent out a bowling alley that my family went to when I was in high school. It was a cool little event. There was a VIP section for my close family and all the people that I'm really close with. I packed the place with all the cousins, nieces and nephews I could.
There was also the chance that the Redskins were going to draft me, so I wanted to be close to home.
This was the realization of a dream coming true. I started playing football when I was eight years old and playing quarterback when I was 10. From that point on, I dreamed of being an NFL quarterback. I had literally watched every single draft from pick one all the way to 256. It was like Christmas Eve. I watched going back to Calvin Johnson in 2008. I would watch literally every draft.
I always dreamed of being drafted. Now it was about to happen.
The pick was in, and my phone started to ring. The Redskins were drafting me. Commissioner Roger Goodell announced the pick as my family cheered.
And my life changed forever.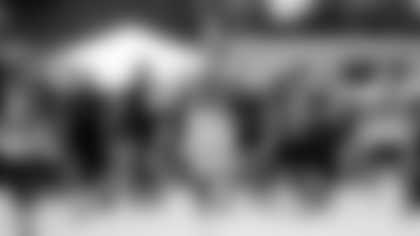 ---
---
The move felt natural to me. I moved from Virginia to Gaithersburg, Maryland, which is about a 40-minute drive from FedExField, in my freshman year and attended Bullis School in Potomac. I won MVP at my first Nike camp in the Redskins' indoor facility. I went to Redskins games in high school, and I remember writing about quarterback Robert Griffin III as the sports editor of my school newspaper.
Ohio State sets the bar high just because of the atmosphere you play in on gameday in the Horseshoe. I was playing at Wisconsin, Penn State and Michigan State, playing in the Big Ten Championship game and the Rose Bowl. Those are some big-time atmospheres.
In the NFL, every game is a big-time atmosphere. A lot of college teams might have several professional-caliber players. In the NFL, everyone is on that level.
But I was ready. I definitely feel like I was prepared to play, at least not to be scared of the moment.
I didn't know too many people on the Redskins, but I could tell there were a lot of great guys on the team. Meeting AP for the first time was crazy. He does everything you see on the highlight tape as a kid. He's just a true OG. You try not to be in too much awe of him because he's your teammate, but you admire what he's been through. Him, Landon Collins and Morgan Moses have all tried to mentor me since I came into the league.
And then there was the quarterback room that had Case Keenum, Colt McCoy and Alex Smith. Being around a veteran guy who's earned his keep isn't foreign territory for me. At Ohio State, I played behind J.T. Barrett. He was a three-time captain and All-Big Ten selection. He broke school records.
I remember watching Colt when he played at Texas. I remember Case at Houston throwing for 5,000-plus yards. I remember Alex running for a touchdown against the Saints in the NFC divisional playoffs in 2012.
They helped me in several ways. They recommended I lift on Tuesdays instead of Wednesdays so my body has more time to recover and I can meet with the quarterbacks coach longer. They also offered scouting reports. Colt would say, "I played this defensive coordinator two years ago and he likes to bring this and bring that." And Alex would say, "I played this corner and he plays this type of tendency."
I respected them as players and as quarterbacks because of what they've been through. But at the same time, I'm here to compete. I'm here to earn a starting job.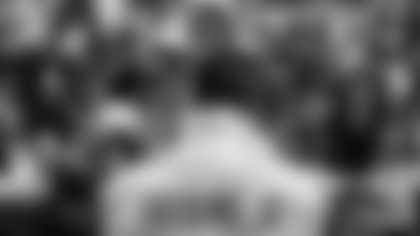 ---
---
I knew I had an opportunity to start in OTAs and training camp, but I also knew if I worked hard enough and grew as a quarterback, I was going to get an opportunity to help the team. I knew I had to just keep learning and developing my body.
Quarterbacking in the NFL is so much more complicated and difficult. Everyone is good at what they do.
In college, you get away with so much. And then on top of that, you're not playing the best teams all the time. A linebacker can mess up on a Cover 2 -- he drops the other way -- and you throw a touchdown. In the NFL, that's never going to happen. I couldn't be sloppy with my eyes. If I stare at the tight end for too long, they're going to jump the route.
Those guys are so in tune with the quarterback that they're even able to read your body language.
I remember talking to Ryan Anderson and Tim Settle, and they said they could tell when I was going to snap the ball based on where I was standing. It's stuff that you don't even know people are noticing.
I was always looking for feedback from them. I would ask questions like, "Am I settling better? Is my cadence more efficient where I'm saying my ready more loudly or am I holding longer before I snap it?" It's stuff you might not necessarily notice as a young guy. I just had to learn how to pick up the nuances that can make you a pro.
During training camp, I heard all the talk from the media discussing who "won the day" between Colt, Case and myself. Avoiding that stuff is definitely easier said than done. We knew we were in a competition with one another. Case was trying to be the best Case could be every day and Colt was trying to be the best Colt could be every day.
I'm just trying to be the best I can be each and every time I step on the field. Whether it is a workout, walkthrough, practice or game, I want to continue to learn and grow each step of the way.
I remember how I felt in our first preseason game against the Cleveland Browns -- my first time coming back to Ohio. I was out there guns blazing, throwing plenty and pushing the ball down the field.
Of course, I made mistakes, but to be playing in an NFL preseason game, it was really like a dream. It was definitely a humbling experience, because I didn't play the greatest first game, but it was just fun to be out there. It was just a great opportunity.
Eventually, Case became the starter, but I understood the decision. He, along with Colt, had knowledge of the system. They're leaders, they're veterans, they've played in the NFL before, and they know what it looks like and have more experience.
I knew my opportunity would come, though. I just had to stay prepared.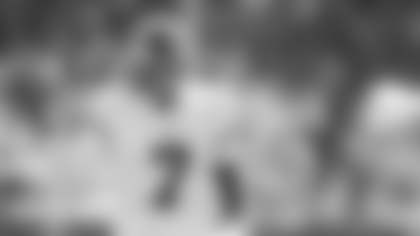 ---
---
I helped my team win three state championships in high school; I helped lead Ohio State to a Big Ten Championship and a victory in the Rose Bowl. Losing just two games back then was a big deal.
I never thought I would lose 13 games.
We had a couple of tough games early on, some good games we had our opportunities in. I remember Case coming off the field late in one of our early games and telling me, "Man, it's a grown man's league. It'll eat you up if you let it."
Probably the biggest thing I took from Case was that you have to have the right guys and the right mindset to overcome losing. I had my dogs and my parents. I talked to Urban Meyer and Terry McLaurin. They all helped me stay focused.
In college, it's easy to buy in. You're on scholarship, your food's free, your rent's free. All you care about is walking to class, playing on Saturdays and hopefully doing enough on Saturdays to get to the league.
In the NFL, some people want new contracts, some people want to get traded, some people don't want to be here, some people want to be here. Some people are married with kids, and some guys walk around and do whatever they please.
But that's the cool thing about playing quarterback. You find a way to bring those people together and build a team.
When we went to play the New York Giants in Week 4, it was like a homecoming of sorts. It also brought me my first regular season opportunity.
The game was an emotional experience for me. I lived in New Jersey until I was 14. I went to Giants games and remember watching Eli Manning. I wanted to get out there, throw eight touchdowns and just beat the mess out of them.
But that didn't happen, and it was a humbling experience.
I couldn't even look at my phone because I knew it was going to be bad. I made a couple of good throws, but it wasn't fun to watch. My demeanor before the snap was terrible; my eyes weren't in the right spot at the top of the drop. I remember looking at the film and thinking, "What was I doing?"
I got another shot against the Vikings in Week 8. I wasn't in sync or rhythm at all. That didn't make me lose confidence, but it felt like I was against myself. It should be easier than this. I had just thrown 50 touchdowns at Ohio State. Why wasn't it easy?
Then I talked to Alex for about two hours. "Of course it's not going to be easy," he said. "You're a rookie who hasn't played in the NFL and is learning a new system." That made sense.
So, once I was named the starter a week later, I decided I was going to keep things simple and let the plays come to me. That's when things started to pay off.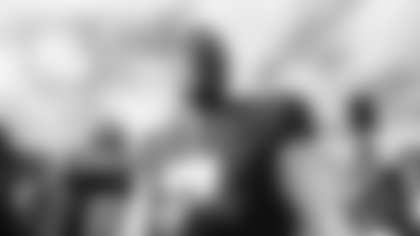 ---
---
When I was in college, Coach Ryan Day told me something I still remember: bad things are going to happen. But if you make things worse, the whole game could be over from there. Fall on the ball if there's a fumble. Throw it away if someone is covered. Don't put the offense in third-and-16 because you want to make four or five guys miss.
Those are the simple things I focused on for the rest of the season. I remember going into the Buffalo game with so much more confidence, partly because I was able to continue to learn and had faced some early adversity. I was humbled and understood how difficult this league can be.
I still made some mistakes in that game, but my mind was calm. It was windy outside, and the Bills Mafia was loud, but I was going to be the best me, the best quarterback, the best leader I could be.
There were still some bumps along the way. I thought we were going to beat the Jets. They were blitzing us all game, Jamal Adams had three sacks. It was just bad.
It's all about thinking positively and what you tell yourself. If I'm doing what I'm supposed to do, if I study and put in the work, I'm going to play well. There's no doubt I was starting to play better, but it was all about getting into that groove of knowing I will make mistakes. As long as I'm making more plays than mistakes, it's going to work out.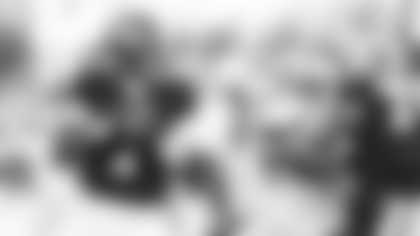 Outside of our game against Maryland at Ohio State, the game against the Lions was probably the most anxiety I've ever felt in a game.
We were going back and forth with them. They were kicking field goals; we were kicking field goals. That's what I love about NFL games. Every game is competitive until the last two or three possessions. That's when it matters most.
We started to find some momentum. I found Terry on a 15-yard play; Adrian ran for a six-yard gain; and I completed a pass to Derrius that put us in field goal range to tie the game. Then we got an interception that gave us a chance to win at the last minute.
It was third-and-5 with less than 30 seconds left. I motioned Trey Quinn over and saw it was man coverage. I looked for Quinn, but he was covered. I could have made the throw, but it would have been a contested ball.
So I reset, and as I was trying to avoid a sack, I saw Terry running across the field. I put the ball where only he could make the catch, and he came down with it and put us in position to kick a field goal and take the lead.
Two plays later, another interception sealed the game. We had just gotten our second victory and the first of my career. I'll never forget how I felt after that interception. I threw down my water bottle, looked up at the sky and screamed with joy. It was the first of many to come in my career.
If I could say anything to the fans who have grown up watching the Redskins, it would be that we are growing, working as hard as we can, doing things the right way and building a winning mindset on and off the field. I hear people saying, "What does that mean?" It's the way we practice, the way we eat in the dining room, the way we lift.
A lot of times last year, I thought we were dragging. This year, I feel a new sense of urgency. That's what is fun about football. It's the "want to," to play your best in every situation.
That's something I think is important as far as trying to be able to compete with the best of the best teams in the NFL. If you don't think you have a fighting chance, there's no way you're going to win.
I feel like as we continue to grow as a group, we are learning a lot about what it takes to be a winning football team.
Stay safe and healthy, everyone. I hope to see Redskins Nation again soon!