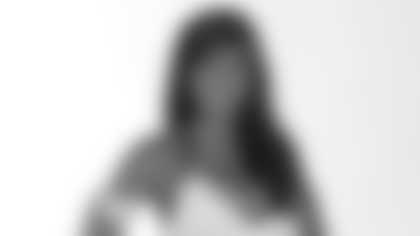 Greetings Redskins Fans,

My name is Erica and I am ecstatic for my first season with the Washington Redskins. I am honored and blessed to be part of these amazing and accomplished women!

I am a Native American from the Rosebud Sioux Tribe in South Dakota. I am here currently pursuing a Bachelor's in Accounting and Masters in Taxation through a five year program at York College… I'm tackling these dreams one step at a time :)

Athletics and dancing have always and will continue to play a major role in my life. I am very competitive and will challenge you at any and everything. I love leading a happy, healthy, positive lifestyle.
I'll leave you with some words of wisdom :)…Keep your thoughts positive because your thoughts become your words. Keep your words positive because your words become your behaviors. Keep your behaviors positive because your behaviors become your habits. Keep your habits positive because your habits become your values. Keep your values positive because your values become your destiny.

Thank you to all my family, friends, and fans for your loyal support! Here is a tiny bit about me, now I am ready to meet all of you on game day!

See ya there ;)

XO Erica