Redskins fans were in their glory on Saturday afternoon, as the team hosted its annual Fan Appreciation Day at Redskins Training Camp.
More than 28,000 fans attended the Fan Day festivities, the team reported. That figure shattered the previous one-day training camp attendance record of 25,000 fans in 2004.
"It was unbelievable," head coach Jim Zorn said after the team's intra-squad scrimmage. "It was tremendous to see everyone come out and get a look at what we're going to put on the field. It's a real deep admiration between fans and the traditions of Redskins football."
Parking lots for the event opened at 11:30 a.m., but lines of cars began forming before sunrise and were backed up from Redskins Park to Loudoun County Parkway to Waxpool Road.
Once inside the gates, fans were allowed to watch from the lawn area or position themselves around two practice fields.
"We appreciate the outstanding support of our loyal fans," Redskins chief operating officer Mitch Gershman said. "The great number of people who came here to support and cheer on our team shows once again why we have the best fans in the NFL. We are looking forward to an exciting season."
The highlight of the event was the intra-squad scrimmage that included full contact, 11-on-11 work. Zorn also emphasized red zone and the 2-minute offense during the scrimmage.
Fan Appreciation Day got underway shortly after 12 noon with performances by the Redskins Marching Band and the Redskins Cheerleaders.
While young fans amused themselves with inflatable games, adults browsed retail trailers and took photos of the Redskins' Super Bowl tropies on display in a special tent.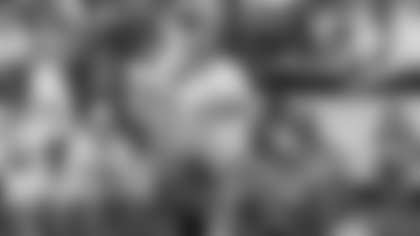 New Redskin Jason Taylor was the object of many fans' attention, particularly female fans who enjoyed him as a contestant on the popular TV show "Dancing With the Stars."
"We're going to dance our way to the Super Bowl!" one female fan exclaimed as Taylor walked to the practice fields.
Later, in a 3-minute address to fans, Jim Zorn encouraged fans to "watch fast" and not miss any of the action on the field during the scrimmage.
"We have high expectations, and I expect a lot from myself and my staff. Our players expect a lot of themselves. I want to thank you for being here, and I know you have high expectations as well. If we work together, we'll be there in the end."
After the scrimmage, coaches and players stayed an extra 30 minutes to sign dozens of autographs.
"First time I've experienced this many fans at Redskins Park," Jason Campbell said. "I'm used to seeing this many fans at FedExField, but not here. So when we came out here, it was exciting to see how much fan support we have.
"I heard some people were here at 5 a.m. I was just turning over [in bed] at that time."