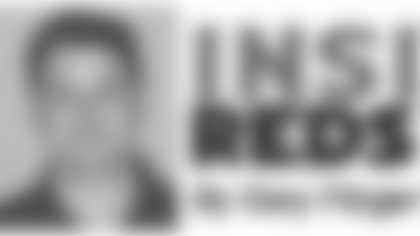 Wondering about a player's status? Trying to recall a past game? Want some insight on the Redskins? Redskins.com's Gary Fitzgerald opens up the mailbag on Friday and answers fan questions.
Question: I was recently asked a great question and could not come up with a good answer: Who is the best wide receiver in the NFC East?
Gary: It is a great question. And Santana Moss may very well be the answer. Moss has 430 career receptions for 6,541 yards and 43 touchdowns and is coming off a 75-catch season. If not Moss, then I would look at Dallas's Roy Williams, who I believe is an elite wide receiver waiting to happen. He has been buried in Detroit most of his career, but he did have an 82-catch season in 2006 and a 64-catch season (in 12 games) in 2007. Philly's DeSean Jackson could emerge, and I've always liked the Eagles' Kevin Curtis, but for now I'd say it's between Moss and Williams. Based on longevity, Moss is my pick right now.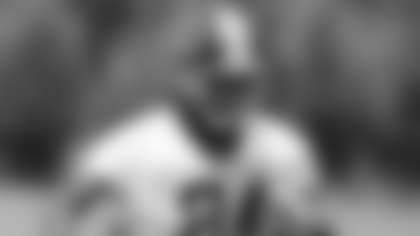 Marko Mitchell (Ned Dishman Photo)


---
Question: Hey Gary, I am an avid Redskins fan and I am interested in our draft pick Marko Mitchell. He seems to be very promising. What is his 40 time? And do you think that he will be able to make the roster?
Gary: I spoke with Mitchell last week and came away impressed. At Nevada, he was regarded as a big-play receiver. Mitchell frequently ran deep routes and in 2007 finished with a remarkable 21.3 yards-per-catch average. He has above average speed; he reportedly ran a 4.47 in the 40 at the NFL Scouting Combine. With the Redskins, Mitchell must learn short passing routes associated with the West Coast offense. If he can master the offense in short period of time, I would say he has a very good chance at making the roster.
---
Question: Albert Haynesworth often mentions that he aspires to emulate the late Reggie White. When White was at his best, he came from every position on the line. Does Greg Blache have a similar plan for Albert?
Gary: Yes, Redskins coaches have said that they expect to use Haynesworth at both defensive tackle and end depending on situations and matchups in games. Haynesworth is expected to see the bulk of playing time inside, where he can get a bull rush up the middle and open up lanes for Andre Carter and Brian Orakpo. Haynesworth's presence at defensive end could depend on how fast Orakpo makes an impact as a pass-rusher.
---
Question: How is Byron Westbrook doing? Is his future as a Redskin in question with the addition of Kevin Barnes and the progression of J.T. Tryon?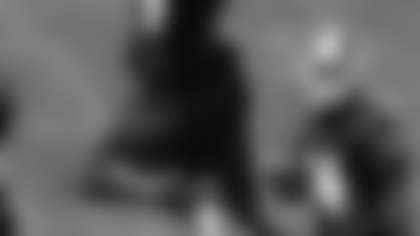 Byron Westbrook (Ned Dishman Photo)


Gary:I caught up with Westbrook last week and he was optimistic about his chances of making the roster. He continues to progress in coverage, but his 5-10 height sometimes betrays him against taller receivers. Barnes, as a third-round draft pick, is expected to make the final roster, so Westbrook must compete with Tryon to be the fifth cornerback on the roster. Tryon also showed improvement in offseason work, so this could be a training camp competition to watch.
---
Question: It's September 13 and the Redskins have just forced a 3-and-out on the New York Giants' first offensive possession of the game. The Giants are backed up deep in their own territory as their punter prepares for the snap...which Redskin is he punting to? (I could ask you who you think our starting punt returner is going to be, but I like this set-up better.)
Gary: I'll play your game. I predict the Redskins put Santana Moss in at punt returner in this situation to give the team an early spark. Last year, coaches used Moss in special situations such as this one in the hopes that he would produce a big play. Under normal circumstances, though, Antwaan Randle El is expected to serve as the team's primary punt returner.
---
Question: Hey Gary, is LaRon Landry primed for a big year? He has been good, but he has not stood out like Troy Polamalu or Ed Reed. He definitely has the talent, but will we see the talent?
Gary: Landry enters his third NFL season and it's time for him to emerge as a Pro Bowl safety in the NFC. He has been steady and rarely makes a mistake, but he has not contributed as many game-changing plays. That's what the Redskins are looking for in him now. It did not help Landry that he missed most of OTAs, showing up on the last day for the last practice. He needs to stay healthy in training camp, too. Last year, Landry was slowed by a sore hamstring and missed all of preseason.
---
Question: Hey Gary, what three players (not named Chris Cooley) do you think will have standout, Pro Bowl-caliber years this year?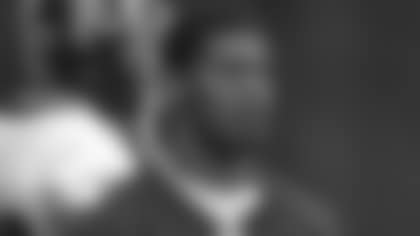 LaRon Landry (Don Wright Photo)


Gary: Last year the Redskins had four offensive players make the Pro Bowl. This year, it's the defense. First prediction may surprise you: I'll go with pass rusher Andre Carter, who should benefit from the presence of Albert Haynesworth inside at defensive tackle. Second, I will predict LaRon Landry does emerge in his third year and becomes a Pro Bowl starter. Finally, London Fletcher will have another 150 tackles--he benefits from Haynesworth as well--and finally earn his long-awaited Pro Bowl berth.
---
Question: Gary, what do you think are the chances of both Colt Brennan and Chase Daniel being on our roster this season?
Gary: Slim and none. As mentioned a dozen times already, I think the Redskins are set with Jason Campbell as the starter and Todd Collins as the primary backup. Collins should be solid in his second year in Jim Zorn's offense. If he struggles, it's possible the team could bring in a veteran backup. (Remember, the Redskins had interest in Byron Leftwich a few months ago.) Having both Brennan and Daniel back up Campbell would be high risk at one of the most important positions on the field. Brennan could compete with Collins for the primary backup job, but he'll need to really shine in preseason play to win the job. More likely, Brennan and Daniel are competing for the third quarterback job.
---
Question: Do you see a possibility of moving Chris Samuels to right tackle and looking for a young left tackle next season? This to me would seem to be a great way to extend Samuels' career, just like Jim Lachey and Joe Jacoby.
Gary: Eventually, the Redskins will seek out Samuels' replacement. Not yet, though. He is coming off his fourth consecutive Pro Bowl season. Give Samuels at least two more years at left tackle before moving him to right tackle or looking for his long-term replacement. Besides, his pass-blocking skills make him best-suited for left tackle. At right tackle, coaches hope Stephon Heyer wins the right tackle job outright. If he can't lock it down, and Mike Williams is not up to par, then the Redskins could go into next offseason looking for a new right tackle.
---
Question: With all of the questions swirling around the Redskins linebackers corps, has any thought been given to resurrecting No. 56? I recently read that LaVar Arrington has not officially retired from the NFL and he is keeping himself in shape as he contemplates his future.
Gary: Hard to believe, but Arrington has been out of the league for two full years now. It's hard to return from an extended absence from the game--just ask Mike Williams. I had respect for Arrington at the time I covered him from 2003-05--I have met few athletes who commanded a star presence the way he did--and I didn't like how his tenure ended in Washington. Nonetheless, it's safe to say the Redskins have moved on.