Wondering about a player's status? Trying to recall a past game? Want some insight on the Redskins? Redskins.com's Gary Fitzgerald opens up the mailbag on Tuesday and answers fan questions.
Question: I read that Jason Campbell is a better quarterback in the shotgun formation. If so, why don't we use the shotgun formation more often?
Gary: You may have read that here last week. I reported that Campbell was 14-of-17 for 155 yards and a touchdown in Week 1 vs. the Giants. How did he do in Week 2? Pretty good. Campbell was 14-of-20 for 150 yards out of the shotgun vs. the Rams. On third downs, Campbell was 7-for-9 for 84 yards out of the shotgun, with five of the seven completions converting first downs. Why not run the shotgun more often? Well, it's used fairly often already, but keep in mind that most of the plays on Sunday either came in 2nd- or 3rd-and-long situations or during the final minutes of the first half, when the offense was in hurry-up mode. Using it all the time would, for example, eliminate the possibility for play-action.
---
Question: Gary, why aren't the Redskins using more press coverage? The cornerbacks always seem to give the wide receivers 10 yards on every defensive play. Receivers are catching balls underneath all day.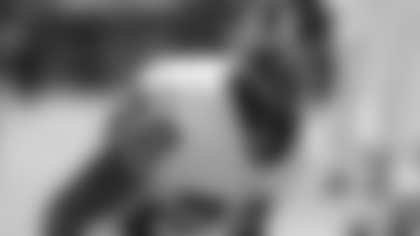 Gary: Wow, this was a common question from fans last week. Greg Blache was asked about press coverage and whether he needed to address the execution or strategy in his defensive game plan. His reply: "Possibly some of both--some execution and some strategy--but yeah, they can play a little bit tighter on receivers." There you go.
---
Question: Gary, what are the chances of Mike Williams seeing playing time at right guard? And what free agents are available to play interior offensive line?
Gary: Mike Williams has played sparingly at guard in his career. He started at left guard for one game in the 2005 season, according to the Redskins media guide. Listed at 337 pounds, Williams has the size and power to handle the position, but his 6-7 height could be a disadvantage against smaller, stouter defensive tackles. Williams is expected to take practice reps at guard, but he would only play the position in a game in case of emergency. Who is available in free agency land? The only name floating around is Pete Kendall, the former Redskin who has played left guard most of his career. The team is sure to look at other candidates as well.
---
Question: Why were the Redskins so quick to release Jon Jansen in the offseason with no backup firmly established?
Gary: Interesting that this question would come as the Redskins started to prepare for the Detroit Lions, Jon Jansen's new team. (Jansen is a backup offensive tackle for the Lions.) With regards to Jansen's release, I'm sure salary cap considerations came into play. Apart from the money, the Redskins wanted to go in another direction at right tackle. Specifically, that direction was Stephon Heyer, who the team has developed the last three years and has increasing confidence in. Jansen might not have been very happy as a backup on the Redskins, so it was decided the Redskins should part ways with him. Time will tell if Mike Williams is a suitable backup or if it would have been wiser to keep Jansen.
---
Question: Seriously, how long do we have to wait for a goal line fade pass?
Gary: Jim Zorn said he called the goal-line fade on Sunday against the Rams, but Jason Campbell saw something as the play developed and threw another direction. This is a key red zone play in Jim Zorn's playbook. Keep looking for it.
---
Question: Why hasn't Marko Mitchell been used more in the red zone? I know he is a rookie and he doesn't have the experience, but how hard is it to run into the end zone and out-jump everybody?
Gary: Malcolm Kelly, at 6-4 and 227 pounds, is the first option when it comes to Jim Zorn calling the goal line fade pass. Marko Mitchel, at 6-4 and 218 pounds, had great success in preseason, leading the Redskins in receptions and touchdowns, but he is still fine-tuning his route-running at the NFL level. Give him time. Putting Mitchell in solely for the goal-line play would only serve to telegraph it to the defense.