Wondering about a player's status? Trying to recall a past game? Want some insight on the Redskins? Redskins.com's Gary Fitzgerald opens up the mailbag on Tuesday and answers fan questions.
Question: If Ladell Betts continues to create manageable second and third downs that open up the passing game and allow Jason Campbell to breathe in next Sunday's game against the Broncos, will we see Betts continue to start or gain considerable playing time over Clinton Portis?
Gary: Betts really impressed against Atlanta, didn't he? He looked like the Betts of 2006 when he had a career year charging through holes and bulldozing tacklers. Given the Redskins' 2-6 record, I think anything and everything is on the table in terms of playing time. Portis is likely going to remain the Redskins' No. 1 running back, but apart from a 34-yard run against the Giants and a 78-yard run vs. the Chiefs earlier this season, he is averaging just 3.1 yards per carry. Certainly, the team will be cautious with Portis's concussion and he could be sidelined at least 1-2 weeks. If Betts, who began the year as a third-down back, continues to play like he did last Sunday, then I could envision a Portis-Betts combination for the rest of the season.
---
Question: I didn't get to see most of the Redskins' game against the Falcons, but what was the most disappointing part for you? Was it the offensive line play, Michael Turner's huge day, losing 24-3 at one point, or something else?
Gary: We all knew that the offensive line would struggle once Chris Samuels and Randy Thomas went down with season-ending injuries. What was harder to predict was the run defense. I am surprised that, with big Albert Haynesworth clogging the middle, the Redskins are allowing 126.4 rushing yards per game, 25th in the NFL. I thought run defense would be a strength, not a weakness. Overall, the Redskins are allowing 4.2 yards per carry, which is tied for 17th in the league. Not bad, but big plays on the ground have really hurt the defense. Along with Turner's 58- and 30-yard touchdown runs last Sunday, the defense has yielded run plays of 67, 58 and 22 this season.
---
Question: Hey Gary, I know it's a little early to be talking draft, but I was wondering if the Redskins will target Texas quarterback Colt McCoy, Alabama defensive tackle Terrence Cody or Oklahoma State offensive lineman Russell Okung in next year's draft.
Gary: Yes, it's too early to talk about the draft. Redskins scouts and personnel officials are still evaluating players in the college ranks, as are all the NFL teams. Nothing has been determined, including the draft order. As for the players you mention, the Redskins are likely to take a look at all three of them, particularly Okung who is rated as one of the elite offensive linemen in the draft. The quarterback position will be closely scrutinized next offseason and it's too soon to figure which way the team decides to go. Selecting Cody would be a luxury pick, since the Redskins have Albert Haynesworth in the fold at defensive tackle; it seems unlikely he would end up in the burgundy and gold.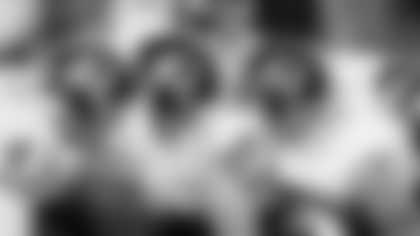 ---
Question: I would much rather see the Redskins start from scratch and improve every year than try to watch this makeshift process going on in D.C. I want to see a much younger offensive line and build around that than any other part of the team. We can then get a franchise QB after the offensive line is solidified. Thoughts?
Gary: It's evident that the Redskins need an infusion of talent and youth along the offensive line, especially with Chris Samuels' future uncertain. It should be a priority when free agency and the draft arrive next year. I agree the team ought to build around the offensive line, but you can't just start from scratch and play five rookies. Casey Rabach turns 33 next year, but he is still a quality center who makes the key adjustments at the line of scrimmage. That's not an easy task for a young center to pick up right away. Derrick Dockery is solid at left guard. Stephon Heyer, Chad Rinehart and Will Montgomery continue to develop, although whether they are starting caliber is a question mark. It could take several years to build cohesive offensive line that can stay together for several years. With Samuels out, the foundation is gone. An offensive tackle should be the first building block next offseason.
---
Question: How many draft picks to the Redskins have next year and what rounds are they in?
Gary: The Redskins have their first- and second-round selections, but they surrendered their third-round pick when they plucked defensive end Jeremy Jarmon from the 2009 Supplemental Draft last July. In later rounds, the Redskins have their fourth-, fifth- and seventh-round picks. The sixth-rounder was included in the 2008 trade for Jason Taylor.