Wondering about a player's status? Trying to recall a past game? Want some insight on the Redskins? Redskins.com's Gary Fitzgerald opens up the mailbag on Friday and answers fan questions.
Question: Do you think the Redskins should draft a linebacker with their first-round pick? I think we have a pretty good D-line and now we have Renaldo Wynn back. I know H.B. Blades played well, but what about drafting James Laurinaitis or Brian Cushing or Rey Maualuga?
Gary: If defensive end Brian Orakpo and all four of the top offensive tackles are off the board at No. 13, then I could definitely envision the Redskins drafting a linebacker. Makes sense, too, because strong-side linebacker is currently a need, although H.B. Blades may have something to say about that. Maualuga could be an impact linebacker in the mold of Brian Urlacher. If he's available at No. 13, then he could be the best player on the board. He is a fiery, intense leader who, if the Redskins draft him, could eventually move to middle linebacker once London Fletcher leaves or retires.
Question: Why did the Redskins let go running back Marcus Mason? I thought he performed well during preseason the last two years. I am a big Clinton Portis fan, but when he gets hurt our running game suffers drastically.
Gary: Marcus Mason spent time on the practice squads of the Baltimore Ravens and New York Jets last season. Currently, he is on the Jets off-season roster. Mason showed flashes in leading the Redskins in preseason rushing yards last year, but he did not impress enough on special teams to earn a roster spot. He had a costly fumble on a kickoff return to open a preseason game, and that may have sealed his fate.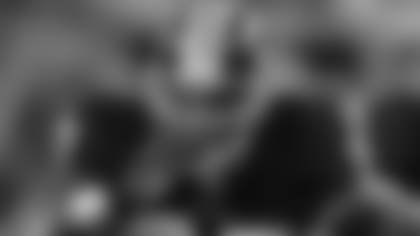 Question: Did we sign Renaldo Wynn to bolster depth at defensive end or is he supposed to start?
Gary: Wynn can start if needed, but his role is to provide depth and 13 years of experience. He is a respected locker room presence who should help youngsters Chris Wilson, Rob Jackson and Alex Buzbee improve their level of play. Wynn also has the versatility to move inside and play some tackle, an attribute that coaches like in their linemen.
Question: What is the deal with recently signed veteran punter Dirk Johnson? He is a 7-year veteran, but his stats are not much better than some of the punters we have cut recently.
Gary: Johnson had two strong seasons in 2004 and 2006 with the Philadelphia Eagles. Since then, he has bounced around looking for a permanent punting home. He was cut midseason by the Arizona Cardinals last year. Johnson has struggled in recent years, but he has shown he can be consistent, unlike some recent Redskins punters who have never shown consistency. Johnson is also a reliable holder for field goals, an important skill. All that said, the Redskins could add a punter to the mix to provide some competition later this offseason.
Question: Will Rock Cartwright still be with the Redskins in 2009? Also, will he get to play running back more in '09?
Gary: Rock Cartwright will face competition this preseason, to be sure. As he does every year, I expect him to fight and claw to earn a roster spot this preseason. I would not count him out, either. He has emerged as the second-best kickoff return specialist in franchise history (behind Redskins great Brian Mitchell). He also added 14 special teams tackles last year. As for running back, it appears doubtful that Cartwright will see more than a handful of carries. He'll be ready when called upon, though.
Question: Do you think it's possible that we will see Colt Brennan under center this year, given that Jason Campbell has not really proven himself in four years in the NFL? (We want Colt! We want Colt!)
Gary: Ah, the calls for Colt Brennan continue. First, I would beg to differ that Campbell "has not really proven himself." I think he has proven himself to be a solid, capable quarterback with good upside. He completed 62.3 percent of his passes last year and threw just six interceptions. I would agree that it's time for him to emerge as an elite-level player, though. As for Brennan, you will see him under center this year...during preseason. Once the regular season is underway, it's Campbell's job. As I've said previously, the only way Brennan plays is if Campbell and Todd Collins suffer injuries.
Question: When will the 2009 regular season schedule dates and times be announced? We have tickets to see the Redskins in Charlotte and Atlanta. We are really excited about the season!
Gary: Coming soon! The NFL releases the regular season schedule in mid-April, usually about a week to 10 days before the NFL Draft. For now, all I can tell you is that the Redskins won't play at San Diego or Oakland in Week 1. The Chargers and Raiders, both among the Redskins' 2009 opponents, play each other in Week 1. And the NFL opted not to include the Redskins on its slate of Thanksgiving games.
Question: I was wondering why the Redskins have not re-signed Khary Campbell. Khary is one of the best special teams players the Redskins have had in team history.
Gary: It appears that Campbell is exploring his options in free agency right now. Meantime, the Redskins are re-evaluating their depth at linebacker. They re-signed Alfred Fincher, who has shown he can be a special teams standout. And they could draft at least one linebacker and bring in some young undrafted prospects as well. It's not out of the question for Campbell to return to the Redskins, though.