Wondering about a player's status? Trying to recall a past game? Want some insight on the Redskins? Redskins.com's Gary Fitzgerald opens up the mailbag on Tuesday and answers fan questions.
Question: Gary, I thought I'd break up the monotony of the Colt Brennan talk and ask you about one of my favorite players – Chris Horton. How is Chris doing?
Gary: Horton is coming off a toe ligament injury that sidelined him the final eight weeks of last season. He has been doing some light jogging to get ready for off-season practices. Few have a better mindset in terms of approaching the game than Horton: "I kind of feel like I've still got a lot to prove," he told Redskins blogger Matt Terl recently. "Last year was unfortunate. I'm just looking forward to being here, getting better and doing whatever it takes to help this team win. I know I can play this game, even though I haven't played for half a year. My goal is to come back and work the way I worked when I was a rookie." Horton played strong safety the last two years. With LaRon Landry expected to play closer to the line of scrimmage next season, Horton's role in 2010 is to be determined.
---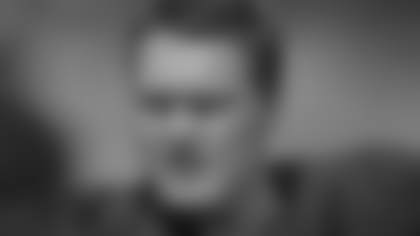 Question: Now that the Redskins have acquired Adam Carriker, where does he fit in?
Gary: Carriker is expected to be in the mix for a starting job at defensive end, no matter if the Redskins use a 4-3 or a 3-4. If it's a 3-4, then I can envision a starting unit of Carriker and Albert Haynesworth at defensive end and Maake Kemoeatu at nose tackle. I believe the Redskins have big plans for Carriker, who turns 26 years old on May 6. Remember, he played for Jim Haslett in St. Louis in 2007-08.
---
Question: Please answer this! Why not select Bruce Campbell to fill the right tackle spot? He was a first-round talent available in the fourth round. He has the athleticism that is needed for zone blocking.
Gary: A lot of fans seem disappointed that the Redskins did not draft Campbell, who was eventually selected in the fourth round at 106 overall by the Oakland Raiders. (The Redskins chose linebacker Perry Riley at 103 overall.) Campbell was bypassed three rounds, so clearly every NFL team had questions about the 6-7, 310-pound prospect. He only had 17 games of starting experience at Maryland and he was thought to be too raw for a first-round pick. (One draft site called him a "boom or bust" prospect.) Add in that the Redskins felt they had needs at linebacker as they move to a3-4 this offseason, and it becomes clear why they decided not to draft Campbell.
---
Question: Does Selvish Capers have a chance to start at right tackle this year?
Gary: Ordinarily, I would say it's unlikely that a seventh-round draft pick could start as a rookie. Capers was expected to go higher in the draft than the seventh round--most draft guides had the 6-4, 305-pounder going somewhere in the third, fourth of fifth rounds. He started three years at right tackle at West Virginia. He is regarded as a raw prospect and needs work on technique, but he has good mobility and should eventually fit in well in the Redskins' zone-blocking scheme. It will come down to how well he adjusts to the physicality of the NFL and the mental side of the game. For now, Artis Hicks is the leading candidate to start at right tackle, but keep an eye on Capers as the offseason progresses.
---
Question: Hey Gary, love the Fan Mailbag. There was no question that Fred Smoot was the locker room jester but since he has left, has anyone else taken his place, joking about, being the prankster, and boosting team morale?
Gary: Good question. It is a little early for the new Redskins locker room to develop a personality--there are a lot of new faces, obviously. Mike Sellers is still around, though, and he tends to keep things light. My candidate for 2010 locker room prankster? Donovan McNabb. In Philadelphia, he found humor in trying times and he would reportedly crack jokes in the huddle. At the Pro Bowl earlier this year, he embraced his role as prankster by charging dinner, drinks and even shopping trips to rookies' hotel rooms. He even joked around with London Fletcher and Brian Orakpo during the team photo shoot.