Wondering about a player's status? Trying to recall a past game? Want some insight on the Redskins? Redskins.com's Gary Fitzgerald opens up the mailbag on Tuesday and answers fan questions.
Question: What's the status on Jeremy Jarmon? I have not heard anything about him since the first preseason game where he looked like he was going to be a great fit as he continued to learn.
Gary: Jarmon had a solid preseason, posting two tackles, one tackle for a loss, two quarterback pressures and one pass defended. He impressed Redskins coaches with his physical play and maturity. I believe coaches are going to limit his time on the field on game days and give him reps in packages that he is comfortable playing in. The concern is whether he can defend the run well enough. He has shown Greg Blache he is "further ahead than expected" and he could earn more substantial playing time as the season progresses.
---
Question: It seems there are not only fan favorites, but also media favorites as well. We seem to get interviews from the same crop of players: Santana Moss, Clinton Portis, Chris Cooley, Jason Campbell. We never see interviews from Ladell Betts or Todd Collins. Why are the backups quiet?
Gary: It's true there are media favorites when it comes to interviews. It's also true that most fans would prefer to read what Santana Moss, Clinton Portis, Chris Cooley and Jason Campbell have to say more than most of the backups--with the exception of Colt Brennan. (Post any article on Brennan to a web site, and it is sure to draw a high number of page views. Yes, he has quite a following.) That said, you raise a good point. And media would be wise to heed it.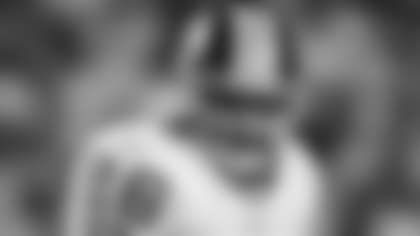 ---
Question: I know the Redskins are set at running back with Clinton Portis and Ladell Betts, but Portis is racking up mileage and Betts is aging. We have a long-term plan at wide receiver with Malcolm Kelly and Devin Thomas, but what about the future of the running back position?
Gary: As Jim Zorn often says, "Good question." Portis is 28 and Betts is 30, and both are entering their eighth seasons in the league. If Portis's numbers start to decline this season, then it could be a sign that a new franchise running back is needed. But if he continues to rush for more than 1,400 yards, then I see no reason to replace him. However, it could be time to groom a long-term replacement for Portis. For a while now, I have advocated a Chris Johnson-type of speed who could complement Portis and Betts until he's ready for a full-time role. It was hoped Anthony Alridge could fill that role, but he had fumble-it is. The Redskins could look to select a running back in next year's draft.
---
Question: With Brian Orakpo getting a ton of reps by learning a new position, is there any concern about fatigue and hitting that rookie wall?
Gary: With any rookie, there is a concern about fatigue late in the season. It's something to watch with Orakpo, though, because he could have a big responsibility in the Redskins' defense. He could serve as outside linebacker on running plays and defensive end on passing downs. Coaches are trying to protect him as he works to become bigger to fend off blocks on running plays. His backup is Chris Wilson, who has two years of experience in the NFL, and that should benefit Orakpo when he needs a breather.
---
Question: There have been several headlines about picking up Andre Woodson and how he can help us with the Giant's play-calling and audibles. Whenever rookies get cut, they have to turn in their playbook. But is there anything that really keeps a player from copying his former team's playbook and bringing it with him wherever he may end up?
Gary: I asked a coach here that very question and he acknowledged that players can certainly do that if they so choose. They would certainly have a significant ax to grind to go to those lengths to get back at their former team. Many players can recite the plays they run by memory anyway. Most playbooks are hundreds of pages, though, so copying or scribbling every play would be time-consuming.