Wondering about a player's status? Trying to recall a past game? Want some insight on the Redskins? Redskins.com's Gary Fitzgerald opens up the mailbag on Tuesday and answers fan questions.
Question: Hey Gary, do you think the Redskins could take safety Eric Berry with the No. 4 pick. LaRon Landry is normally a strong safety and he seems to be too aggressive to play free safety. Berry is a ball hawk, a huge hitter and can change a defense.
Gary: Berry (as well as USC's Taylor Mays) has been a seemingly constant fascination among Fan Mailbag readers this offseason. At 5-11 and 203 pounds, Berry has drawn comparisons to the Baltimore Ravens' Pro Bowl safety Ed Reed. In three seasons at Tennessee, Berry posted 245 career tackles, 14 interceptions and 17 pass break-ups. Does he fit with the Redskins? Landry told reporters at last weekend's mini-camp that he expected to play closer to the line of scrimmage--similar to a strong safety--in 2010. If that's the case, then the Redskins might target an impact free safety like Berry. He had a pre-draft visit to Redskins Park this month, so he is a consideration. Given the Redskins' other needs, particularly offensive tackle, I would be surprised if they drafted Berry with the No. 4 pick. I have to admit that it's not outside the realm of possibility, though.
---
Question: Hey Gary, I wanted to say I love the Fan Mailbag and follow it as fast as you write it. Now that the Redskins have Donovan McNabb and will in all likelihood draft offensive tackle Russell Okung in the first round, who do you think could be available and on our radar with the Redskins' second draft pick, which is now in the fourth round?
Gary: First I don't think drafting Okung, the Oklahoma State prospect, is a sure thing. Oklahoma offensive tackle Trent Williams could get a close look at No. 4, perhaps ahead of Okung. And general manager Bruce Allen has hinted the team could trade down. Now on to your question: In the fourth round and beyond, Allen has said the Redskins will select the best overall player available, based on a number of factors such as injury history, measurables, character and leadership quality. I'm sure need enters into the equation as well. Central Michigan quarterback Dan LeFevour could be available. At offensive tackle, Massachusetts' Vladimir Ducasse and LSU's Ciron Black could fall. Mississippi's all-purpose player Dexter McCluster would add speed to the offense and special teams if he's available.
---
Question: I've been watching Kyle Calloway, an offensive tackle from Iowa. He's 6-6 and 320 pounds and according to some moving up the draft board. What do you think of the Redskins drafting him?
Gary: Calloway would be a fine selection if he's available when the Redskins select in the fourth round. He is regarded as a classic right tackle--the position he played the last two years for the Hawkeyes. Scouts say he excels at run blocking in tight spaces but he doesn't have the great quickness needed to play left tackle, which is more of a pass blocking position. If the Redskins land an elite left tackle in the first round and grab Calloway in a later round, then they could have their bookend tackles for the next 10 years.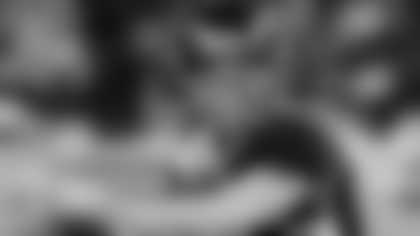 ---
Question: Do the Redskins have a plan to draft a quarterback this year regardless of the Donovan McNabb trade? I feel if you can draft a quarterback this year, he could learn under McNabb's wing similar to the Aaron Rodgers-Brett Favre situation in Green Bay a few years ago.
Gary: Bruce Allen said this week that the Redskins have not ruled out selecting a quarterback in the draft. They have scouted and visited with many of the top prospects, including Sam Bradford, Jimmy Clausen, Tim Tebow and Colt McCoy. If the Redskins don't draft a quarterback in the first round, then it becomes harder to find a true franchise QB in later rounds. But there are some prospects to keep an eye on, such as Central Michigan's Dan LeFevour, Tennessee's Jonathan Crompton, Fordham's John Skelton and Oklahoma State's Zac Robinson. These would all be suitable developmental QBs