Wondering about a player's status? Trying to recall a past game? Want some insight on the Redskins? Redskins.com's Gary Fitzgerald opens up the mailbag on Friday and answers fan questions.
Question: What do you think about RB/WR Percy Harvin from Florida? I think that he could be a triple threat for us on the field--running, receiving and returning. Is there a chance that we might draft him?
Gary: There have been a slew of fan questions about Harvin this week. He is a 5-11, 192-pound wide receiver with a knack for big plays. (He averaged 16.1 yards per catch and scored seven touchdowns last year at Florida.) The intangible I like best? He won two NCAA championships with the Gators. Harvin is a great talent--he is certain to be a first-round pick--and he reminds me a little bit of Santana Moss. Well, the Redskins already have Santana Moss. Coaches are eager to get Devin Thomas and Malcolm Kelly more playing time, so it seems unlikely the Redskins will add a first-round receiver to the mix.
Question: Just a quick question: will there be a 2009 Draft Day Party at FedExField this year? My sons and I went last year and had an incredible time.
Gary: Yes! The Redskins just announced all the details for the Draft Day Party this year. It's Saturday, April 25, and stadium gates open at 12 noon. The draft starts at 4 p.m. Jim Zorn is scheduled to helicopter to the stadium by 2:30 p.m. to address fans from the field, and then helicopter back to Redskins Park.
Question: If the Redskins trade up in the draft, would they not do better to trade up for [Virginia offensive tackle] Eugene Monroe? If you want a pass rushing defensive end, here's one you might find available in the third round: Virginia's Clint Sintim, a 6-3, 254 pounds. He was second-team All-ACC and the most dominating rush linebacker in the country, leading the nation in sacks by a linebacker with 11.
Gary:Let me guess--you're a University of Virginia supporter? Yes, the Redskins would almost certainly have to trade up to draft Monroe. He is expected to go in the Top 10. Now trading up would likely cost the Redskins plenty, and they may not have enough draft picks this year to do it without sacrificing next year's picks. Trading down always offers more options. Count me as a fan of Sintim, who would be a perfect fit at strong-side linebacker. Should the Redskins decide to trade down, Sintim could be available late in the first round or early in the second. I'm not sure he lasts into the third, though.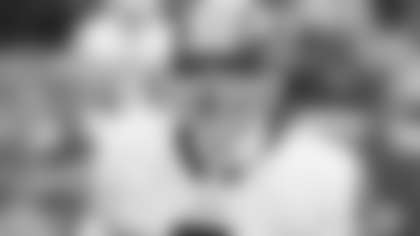 Question: Shouldn't we be looking for a kicker that gives us a better shot outside of 40 yards? I like Shaun Suisham, but when he kicks outside the 40, I cross fingers and toes hoping he gets the job done. I don't think we want to go after a young guy in the draft, but rather a veteran who has proven he can get the job done.
Gary: Suisham was among the league's best kickers early last year. Remember that he kicked four clutch field goals in a win over Dallas in Week 4 and three more in a win over Philadelphia a week later. However, Suisham struggled down the stretch, particularly from 40 yards or longer. Dave Rayner, a free agent pickup, is expected to provide some competition this offseason, but it's really Suisham's job to lose. I like that coaches are showing confidence in Suisham. Let's see how he kicks long distance field goals with a different holder. It may have been an issue last year.
Question: Are the Redskins looking at getting any compensatory picks this year? Pierson Prioleau had some decent contributions in Jacksonville and Mark Brunell was a backup in New Orleans. Do you believe that will warrant maybe a fifth and sixth-round compensatory pick?
Gary: Compensatory picks are determined in part by playing time. Prioleau may have had enough reps last season to warrant the Redskins garnering a seventh-round compensatory pick. I doubt Brunell nets anything, though. In other words, don't get your hopes up for anything substantial.
Question: Do you think it is possible for the Redskins to offer some type of trade to the Denver Broncos to bring Jay Cutler in and ship Jason Campbell out?
Gary: I try to avoid answering questions about players under contract with other teams. Since I've had a deluge of Cutler questions this week, I'll respond. The Redskins, according to Vinny Cerrato, are committed to Campbell as their quarterback for the 2009 season. That is answer enough for me.
Question: I know I will probably be in the minority as usual, but I would like to see the Redskins draft defensive tackle Peria Jerry of Ole Miss. I know there are other needs, but there is no replacing an interior pass rush. When you have two DTs that can collapse the pocket, every other player gets better. I like Cornelius Griffin, but he is getting old.
Gary: It certainly would be a surprising pick, but it deserves consideration. I believe the Redskins have great depth at defensive tackle, with Albert Haynesworth, Griffin, Anthony Montgomery and Kedric Golston all having starting experience. Along with Griffin's age (he is 32), Montgomery and Golston are scheduled to be unrestricted free agents next year. Jerry is light at 6-1, 299 pounds, but he brings great speed and explosiveness to the interior. He had seven sacks last year. The Redskins have more pressing needs than defensive tackle, in my estimation, so I would say it's doubtful the team pursues Jerry.