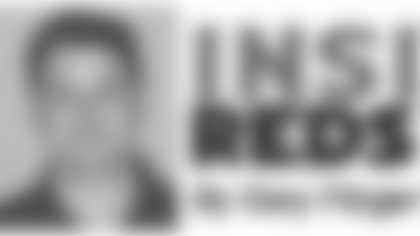 Wondering about a player's status? Trying to recall a past game? Want some insight on the Redskins? Redskins.com's Gary Fitzgerald opens up the mailbag on Friday and answers fan questions.
*Question: I am reading more positive analysis about Chad Rinehart lately. Is the positive spin just because the Redskins didn't draft an offensive lineman, or does he have the abilities to become a starter?
Gary: Probably a little of both. The Redskins were considering offensive tackles in the draft, but after drafting Brian Orakpo at No. 13, team officials did not like offensive linemen available in later rounds. As for Rinehart, he has been playing right guard in mini-camp and OTAs. He had to make a big jump to the NFL from Northern Iowa last year, so he had a big learning curve. He could compete for a starting job if Randy Thomas is slow to return from a neck injury this offseason. "Right now I'm just focusing on being more consistent every play and bringing intensity to it," Rinehart said at mini-camp.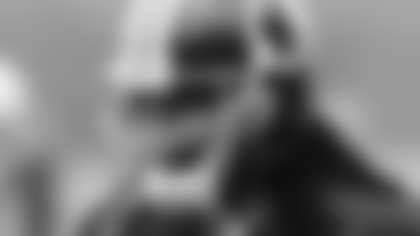 ---
Question: I know Chris Horton impressed last year, but has he solidified a place in the starting lineup or is Kareem Moore still a viable option?
Gary: Well, for one thing, Horton doesn't think he has solidified a starting job. "I still feel like I'm here to try to make this team," he said. "I'm never going to let that feeling go away because once you start to feel comfortable you lose everything you're starting to gain." Horton plays strong safety and is expected to compete with Reed Doughty for the starting job. Moore backs up LaRon Landry at free safety. He could get in the lineup more if defensive coaches move the versatile Landry closer to the line of scrimmage.
---
Question: Why did the Redskins pass on Victor "Macho" Harris in the NFL Draft? He was available at pick No. 150.
Gary: After the Redskins selected Maryland cornerback Kevin Barnes in the third round, team officials turned their attention to linebacker. Harris, of Virginia Tech, dropped in the draft due to his lack of elite speed. Some have projected he could play safety in the pros. The Redskins feel they are well-stocked at both cornerback and safety. Plus, Nebraska linebacker Cody Glenn--drafted by Washington at No. 158 one pick after Harris was selected by Philadelphia--had a higher grade on the team's draft board.
---
Question: Do you think the Redskins would draft wide receiver Marshawn Gilyard next year? I think he would help Santana Moss. He is a big play threat.
Gary: Wow--already there's talk of the 2010 NFL Draft. Well, Gilyard is a 6-1, 180-pound receiver who is entering his senior season at the University of Cincinnati. He posted 81 catches for 1,276 yards and 11 touchdowns last year. As for the Redskins' wide receivers corps, Santana Moss and Antwaan Randle El turn 30 this year and are in their prime years of production. The Redskins have already started to replenish the wide receivers with younger talent in Devin Thomas, Malcolm Kelly and Marko Mitchell. I can envision the Redskins continuing to add to the wide receivers in next year's draft to ensure there's no drop-off as Moss and Randle El get older.
---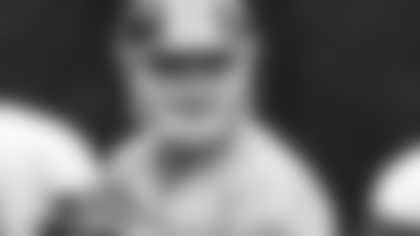 Question: Do you think Chase Daniel has a chance to make the team?
Gary: It appears Daniel will get a chance to compete for a backup job or practice squad spot this offseason. Daniel, like Brennan at this time last year, has a long way to go before he is ready for playing time in the NFL. He was prolific in college, throwing for more than 12,500 yards and 101 touchdowns at Missouri. Daniel struggled in the quarterback dodge-ball drill during mini-camp and he received plenty of instruction from Jim Zorn on footwork and throwing motion. "I know my place here and it is just to make the team and try to soak up as much as possible," he said.
---
Question: What do the Redskins plan on doing about their hole at strong-side linebacker? Is Marcus Washington a possibility? How about H.B. Blades?
Gary: For now, coaches are mixing and matching at the position with top draft pick Brian Orakpo getting most of the reps during mini-camp. Rocky McIntosh has also been mentioned as a possibility to move from weak-side linebacker. Blades, who logged 49 tackles replacing an injured Washington last year, remains in the mix. And converted defensive end Chris Wilson is also an option depending on how fast he can make the transition. As for Washington, he remains a free agent after the Redskins released him in February. He could be re-signed, but for now, it appears the Redskins are going in a different direction.