Wondering about a player's status? Trying to recall a past game? Want some insight on the Redskins? Redskins.com's Gary Fitzgerald opens up the mailbag on Tuesday and answers fan questions.
Question: Why is Kevin Barnes not seeing any playing time?
Gary: This question was posed to Jim Zorn last week: "[Barnes] is really a tremendous athlete and he has a lot of skills. He is learning and he is coming on. It's hard right now, he's just building a foundation, basically. We haven't been able to get him on the field, but he's getting closer and closer. I think as we go along, only in an emergency would I use him. As he builds his career and as he gets into the offseason, he's going to be a factor. So you have to be patient with a guy like that. I would just say he's developing."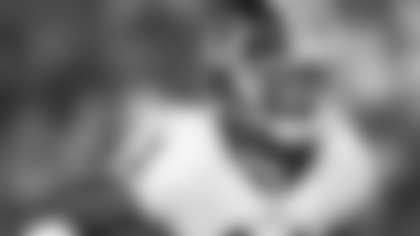 ---
Question: We are not seeing the production from special teams on kickoff and punt returns. Do you think there is any chance the Redskins put Devin Thomas back there to return kicks? He showed his ability to break tackles, and I think he is hungry for the ball.
Gary: With Rock Cartwright stepping in as the starting running back now, Thomas takes over as the Redskins' primary kick returner. Thomas, a prolific kick returner at Michigan State, has returned three kickoffs this season for a 25.7-yard average. "He had a couple nice returns last week [vs. Dallas], including a 38-yard return to open the second half," Jim Zorn said. "Both Rock and Devin will still get [returns], but we'll use Devin more than he would have if Rock had not been cast into the starting unit."
---
Question: If Jason Campbell finishes the season off strong with several good performances, do you think he will be the Redskins' quarterback next year and for years to come?
Gary: Campbell's status is going to be impacted by the labor negotiations this winter. If there's a deal in place, then Campbell becomes an unrestricted free agent and available to sign with any team. If not, then he becomes a restricted free agent. As a restricted free agent, the Redskins can reclaim his rights and match any offers or receive draft pick compensation. With all of that in mind, I could envision Campbell coming back as the Redskins' starter next year, even if the team selects a "quarterback of the future" with its first-round draft pick next April. Campbell has shown, at the very least, that he is a tough-minded, capable quarterback. He could still become the long-term answer at the position--if the organization decides he can develop into an elite-level quarterback--or serve as a stopgap until a young QB is ready to assume the mantle.
---
Question: We have seen Devin Thomas and Malcolm Kelly get several chances to show what they are worth. They are both inconsistent at getting open and catching the ball. When given his chance [against Atlanta], Marko Mitchell got open and caught two passes. Will we see more of Mitchell now that coaches have seen what he can do against starters in the regular season?
Gary: Coaches continue to work Mitchell into the lineup. Mitchell is a young player, but so are Thomas and Kelly. Yes, Thomas and Kelly have shown inconsistency, but they are--slowly--finding their way in the offense. Thomas, a starter the last four weeks, caught three passes for 33 yards against Dallas and Kelly had a big 36-yard reception. Why stunt their development and give away their playing time to a receiver who is also developing? Perhaps Mitchell ends up being the best of the bunch, but Thomas and Kelly need to be given the chances they are getting. For now.