Wondering about a player's status? Trying to recall a past game? Want some insight on the Redskins? Redskins.com's Gary Fitzgerald opens up the mailbag on Tuesday and answers fan questions.
Question: What do you think the chances are of Anthony Alridge making the roster next season? If he does make the roster, is he good enough to be a similar player to Tennessee's Chris Johnson?
Gary: Alridge is an interesting case. The 5-9, 175-pound back entered the NFL as an undrafted rookie free agent in 2008 with Mike Shanahan and the Denver Broncos. After a year on injured reserve, he was claimed off waivers by the Redskins. Alridge flashed potential as a speed back in preseason last year, except that he had a bad case of fumble-itis. He finished the year on the practice squad. Now Alridge gets a second chance under Shanahan in Washington and it's up to him to make the most of his opportunities. Let's not get ahead of ourselves by comparing him to the Titans' Chris Johnson, though. For now, I would say Alridge could develop into a dangerous third-down back.
---
Question: What do you think of Bruce Campbell of the Maryland Terrapins? Do you think he would be a good left tackle of the future for Washington?.
Gary: Campbell is regarded as an upper-tier left tackle prospect and could be drafted in the first round. He was a two-year starter for the Terrapins. He should be able to use his 6-7, 310-pound frame to fend off speed rushers around the edge. Most impressive, he is a workout warrior, bench pressing 490 pounds, second-best in Maryland's history. Campbell leaves Maryland as a junior, so he is not a complete player yet, but you have to like his potential. Oklahoma State's Russell Okung is the top left tackle prospect, and if he's available at No. 4, then the Redskins would have to give him consideration. Campbell is not far behind Okung, though.
---
Question: I know just about everything when it comes to football, but how is it that NFL teams are able to sign players before the free agency period? For example, the Redskins signed kicker Justin Medlock and Baltimore signed wide receiver Donte Stallworth before free agency.
Gary: Medlock was among players who signed a reserve/futures contract with the Redskins, so he was able to join the team even though the 2010 season does not officially begin until March 5. Only players who were not on any NFL team's active roster when the 2009 season ended are eligible for a reserve/futures contract. Stallworth was released by the Cleveland Browns on Feb. 8. Players released by a club are available to sign with any NFL team and do not have to wait for the start of free agency.
---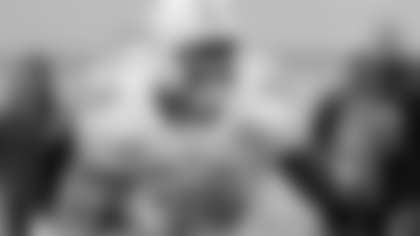 Question: Hey Gary! I honestly think the Redskins should get a supreme pass-blocking left tackle at No. 4 in the draft. However, I am also a defensive-minded guy...If the Redskins don't draft a safety in the first round, do you think Tennessee's Eric Berry, Texas's Earl Thomas or USC's Taylor Mays could slip into the second round? I know it's slim, but it happened with Rey Maualuga last year.
Gary:Given the Redskins' needs, I don't think it's justifiable to draft a safety high in the draft this year. Of course, if Berry, Thomas or Mays fall to the second round, then certainly the Redskins would have to consider one of them. Berry is expected to be a top 10 pick, though. Thomas is rising up draft boards and projected to go in the 15-24 range. If any of the safety prospects drop in the draft, it could be Mays. Some scouts have questioned his ability to run sideline to sideline. He was a dynamic player at USC. At this point, he is projected to be drafted late in the first round.
---
Question: The NFL Scouting Combine starts on Wednesday, Feb. 24. Are Oklahoma quarterback Sam Bradford or Texas quarterback Colt McCoy going to be able to participate after sustaining injuries last season?
Gary: Bradford is still recovering from a shoulder injury. He is scheduled to attend the combine and participate in medical exams and interviews, but he is not expected to do any on-field drills. McCoy suffered a shoulder injury in the National Championship game against Alabama on Jan. 6. While not fully healed, McCoy is expected to participate in some of the passing drills at the combine. McCoy is in great position to benefit from the absence of many top quarterback prospects. Notre Dame's Jimmy Clausen is not expected to do any on-field work as he recuperates from a toe injury. Florida's Tim Tebow and Central Michigan's Dan LeFevour have announced they are only going to throw at their college's Pro Day.
---
Question: What are the Redskins' chances of signing LaDainian Tomlinson this offseason? I think that he could be a huge boost to our team and bring some energy as well.
Gary: After nine NFL seasons and 12,490 career rushing yards, Tomlinson was released by the San Diego Chargers this week. He may be best-suited for a part-time, backup role at this stage of his career. Could he play in Washington? From my perspective, it seems unlikely. Tomlinson has never played in a West Coast-style offense, so he would have to adjust to a new scheme. And the Redskins already have a veteran running back in Clinton Portis who has the advantage of being familiar with Mike Shanahan's system.