Wondering about a player's status? Trying to recall a past game? Want some insight on the Redskins? Redskins.com's Gary Fitzgerald opens up the mailbag on Tuesday and answers fan questions.
Question: When is Coach Zorn going to put Todd Collins in at quarterback? What is the deal?
Gary: Popular question this week. Following the Tampa Bay game, Zorn was asked if he considered putting Collins in after Campbell struggled in the first half. His reply: "Because Jason is our quarterback, and he was not totally failing." So that's your answer. My answer? Time could be running out for Campbell to elevate himself to an elite QB, at least in his Redskins career, but he is still just 27 years old and approaching his prime as an NFL quarterback. He has struggled with his decision-making at times this season, but it has to be noted he is playing behind a makeshift offensive line right now. Campbell has a stronger arm than Colliins, but the key is Campbell's mobility. Collins, 37 years old, cannot move around in the pocket as well as Campbell.
---
Question: I was wondering how many times have the Redskins scored 30 points or more in the last five years?
Gary: First things first, the Redskins have not scored 30 points or more in the last 22 regular season games--and it's 23 including the January 2008 playoff game in Seattle. Now to answer your question, the Redskins have scored 30 or more a total of 11 times since the start of the 2004 season. The last time was on Dec. 23, 2007 in a 32-21 win over the Minnesota Vikings. The Redskins' best scoring stretch was late in the 2005 season when they posted 30 or more points three consecutive weeks in their December drive to the playoffs. The club's worst stretch may have been 2003-04: the Redskins' offense failed to score 20 or more points from Dec. 27, 2003 to Nov. 28, 2004, a 12-game stretch.
---
Question: Hey Gary, when Jason Campbell is running the no-huddle, hurry-up offense, is Jim Zorn calling in plays through the head set or does Campbell have control over what plays are being called?
Gary: The Redskins work on the no-huddle, hurry-up offense all the time in practice and they have a set number of plays and formations. In hurry-up mode, it is Campbell who has to call out the play at the line of scrimmage, with assistance from Casey Rabach who handles the offensive line adjustments. When there is a time out and the Redskins can huddle up, Zorn can call in two or even three plays through the head set and Campbell relays the plays to teammates.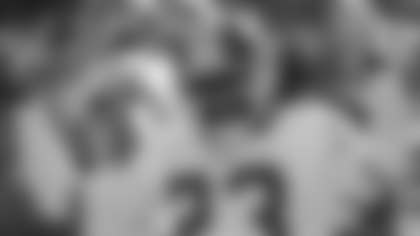 ---
Question: Gary, I am constantly frustrated that the Redskins' cornerbacks play so far off the line of scrimmage. Why do they play so far off?
Gary: Greg Blache addressed this two weeks ago and he acknowledged that the cornerbacks could "play a little bit tighter on receivers." Why do they do it? Generally speaking, it's strategy. The Redskins do not want to give up big plays, so cornerbacks sit back 5-10 yards to let receivers catch short passes. Of course, this strategy requires sound tackling, something the Redskins' defense has excelled at in recent years. The thinking is that it's hard for an offense to drive downfield in eight plays or more without making a critical mistake, such as a dropped pass or a turnover. There's plenty to criticize the Redskins about right now, but the secondary should not be one of them; the group is ranked third in the NFL in pass defense so far this season.
---
Question: Could you explain the fair catch interference rule on a punt, and why it was not called in the Carolina game before their go-ahead touchdown?
Gary: On the play, Byron Westbrook and the Panthers' defender were engaged in blocking, so it was legal for the defender to push Westbrook into Antwaan Randle El even though he had signaled fair catch on the punt. (If Westbrook were stationary or not engaged with the defender, then it would have been illegal and a penalty flag would have been thrown.) That's the rule. And in my opinion, it's a bad one.
---
Question: Can you tell me why Renaldo Wynn has been on the inactive list? He could have signed with several other teams in the off-season and no one has explained why he is not playing? He's a good run stuffer and can spell the defensive ends for a few snaps.
Gary: Wynn was inactive the first four weeks of the season, released last Saturday, and then re-signed on Monday. Coaches like what they see of rookie Jeremy Jarmon, who has moved ahead of Wynn on the depth chart. It's important for the team to develop Jarmon, a young, promising pass rusher. With Phillip Daniels slowed by a torn biceps injury, it's possible Wynn could be activated for some upcoming games.