Wondering about a player's status? Trying to recall a past game? Want some insight on the Redskins? Redskins.com's Gary Fitzgerald opens up the mailbag on Tuesday and answers fan questions.
Question: Gary, what is the chance that Clinton Portis, Larry Johnson and Willie Parker will be used as a three-headed monster this year in the backfield? If so, how do you think the three will take getting a third of the load?
Gary: At this point of the offseason, it's uncertain if Portis, Johnson and Parker all make the final roster. Mike Shanahan's offenses have always had great depth at running back. By putting Portis, Johnson and Parker in competition for playing time, Shanahan could be trying to replicate the success of the New Orleans Saints, who had Pierre Thomas, Reggie Bush and Mike Bell in the backfield last season. Thomas, Bush and Bell combined for 1,837 rushing yards and 16 rushing touchdowns, plus had 90 catches for 649 yards and five receiving touchdowns. Portis, Johnson and Parker are each accomplished running backs, but at this stage of their careers they may not need to be feature backs who have 300 carries in a season. (Portis is 28, Johnson is 30 and Parker is 29.) Sharing the workload should help them stay rested through a long 16-game schedule.
---
Question: I was wondering what the impetus was for the Redskins to play a 3-4 defense instead of a 4-3? It seems as if players are being moved into roles for which they are not quite prepared. What are your thoughts on fitting the system to the personnel and vice versa? Thanks!
Gary: Mike Shanahan and Jim Haslett are experimenting with the 3-4 because they believe it can put defenders in better position to pressure the quarterback and force turnovers. For example, they are teaching Brian Orakpo, a pass-rushing linebacker in a 3-4, to swipe at the ball as he rushes the quarterback. The transition from a 4-3 to a 3-4 could take a year or two. Those players who do not fit in the new scheme could be released in favor of players who do. Roster churn is a constant in the NFL, and it's all about finding the right mix of players to fit the Redskins' defense.
---
Question: Gary, one of my biggest questions is how well do you think Andre Carter will play as a linebacker? I know he has the will and work ethic to play at whatever position they assign him. I really like Carter and would hate to see his talent wasted in a 3-4 if he has to play linebacker.
Gary: You may have answered your own question. Carter has shown he has, as you say, the will and work ethic to play whatever position he plays. When he played linebacker in 2005 for the San Francisco 49ers, prior to joining the Redskins, he had 58 tackles and 4.5 sacks. Coaches will adapt the defense to Carter's skill set and attempt to maximize what he does best.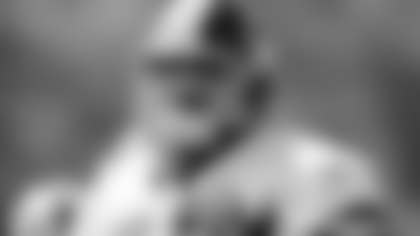 ---
Question: When will the rookies (especially Trent Williams) be assigned their official jersey numbers? I assume Trent Williams' mini-camp number (No. 72) isn't his official number considering his jersey can still only be pre-ordered through the Redskins store with the note "player's number to be determined."
Gary: Could happen anytime. Williams may be waiting for a specific jersey number to open up once a player is released or he may have to negotiate with a teammate who currently wears a number he wants. (Williams had No. 71 in college and that number is worn by Mike Williams.) Or he could stick with No. 72. Stay tuned!
---
Question: I know Rocky McIntosh has been offered a restricted free agent tender and that he has not signed it. What happens if he never signs? Does he eventually become a free agent or do his rights remain with the Redskins indefinitely?
Gary: McIntosh's rights belong to the Redskins this year, unless the team chooses to release him. If he does not sign the tender by June 15, the amount of his one-year $1.759 million tender offer is reduced. He is unlikely to allow that to happen. McIntosh has participated in the May mini-camp and OTAs so far, so expect him to sign before June 15.