Wondering about a player's status? Trying to recall a past game? Want some insight on the Redskins? Redskins.com's Gary Fitzgerald opens up the mailbag on Tuesday and answers fan questions.
Question: Hi Gary! Love your weekly Fan Mailbag answers! If the Redskins switch to a 3-4, what is going to happen to defensive end Jeremy Jarmon?
Gary: Several fans have asked about Jarmon and how he would fit into a 3-4, if that's the direction the Redskins go on defense. Jarmon, a 2009 NFL Supplemental Draft pick, may have to move to outside linebacker in a 3-4. And he could be asked to slim down from his playing weight of 277 pounds last season. Certainly there would be a transition period for Jarmon--he was also a defensive end at Kentucky prior to coming to Washington. And he is spending this offseason rehabbing a knee ligament injury. His goal is to be ready for training camp, but he would miss mini-camps and OTAs and thus fall behind in the learning curve at linebacker. Still, at age 22, it's something Jarmon should be able to handle. He would have company learning a new position: Lorenzo Alexander, who has played defensive end and tackle, is making the move to linebacker.
---
Question: You waste so many opportunities to answer real questions. Why do the Redskins appear to not be addressing other glaring needs at this point: cornerback, running back, wide receiver and free safety? Thanks for a real answer.
Gary: The offseason is all about priorities, based on team need and availability of talent in free agency and the NFL Draft. So far, it's evident that the Redskins have pinpointed offensive and defensive lines as their top priorities--and there is still work to be done at those positions. Team officials may still address the four positions you mentioned in free agency and the draft--and I agree they are needs, although Larry Johnson's addition would seem to solidify running back. Some fans have questioned why I don't think free safety is a need. Oh, I think free safety is a need, especially if coaches opt to move LaRon Landry to strong safety. But I don't think it should be a priority. There is sufficient enough depth in the secondary and it would be a mistake to use a first or second-round draft pick on a safety and bypass positions of greater need.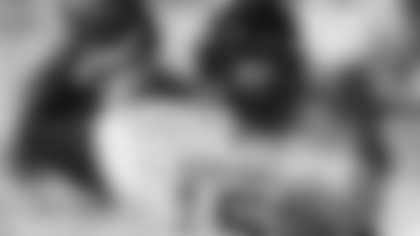 ---
Question: Any chance Tony Pike could be available for a mid-round pick? He has good size, accuracy and hasn't wilted against BCS competition. I feel like he would be a great fit for Kyle Shanahan's offense.
Gary: If the Redskins opt to draft a quarterback in the middle rounds, then Pike could be an intriguing prospect given his 6-6, 210-pound frame. He has drawn comparisons to Baltimore's Joe Flacco. Last year, Pike completed 62.4 percent of his passes last season for 2,520 yards, 29 touchdowns and just six interceptions in leading Cincinnati to an undefeated regular season. He started just two years for the Bearcats, so his lack of experience is a concern. Pike should be available when the Redskins pick in the second round. He could be available in the third round. Problem is, the Redskins don't have a third-round pick.
---
Question: Hi! Do you know if the Redskins are going to keep running back Quinton Ganther?
Gary: Ganther entered the offseason as an exclusive rights free agent, which means he would return to the Redskins only if they simply tendered him a contract. Well, the Redskins chose not to tender him a contract, and so Ganther became an unrestricted free agent on March 5. He is free to sign with any team and he is reportedly visiting Seattle this week.
---
Question: Hey Gary, there was some talk of possibly signing a veteran linebacker such as Larry Foote to the roster. What happened with that? It seems to me that if Jim Haslett has any intention of implementing the 3-4 defense, he will need a strong inside linebacker to work next to London Fletcher. Are there any other prospects for this job?
Gary: Foote has signed with the Pittsburgh Steelers, his former team. Internally, the Redskins could move Rocky McIntosh to inside linebacker--he has proven to be solid against the run in his four-year career. H.B. Blades and Robert Henson are two more candidates--they played middle linebacker in college. In the draft, if Florida's Brandon Spikes and Alabama's Rolando McClain slip to the second round, they could warrant consideration by the Redskins. Spikes and McClain are considered the top two inside linebackers available in the draft.
---
Question: With the addition of tight end Sean Ryan, what does that mean for Chris Cooley? Please tell me that the team plans on keeping him.
Gary: Ryan's addition should not impact Cooley at all. Ryan is more of a blocking tight end--in six seasons he has a total of 26 receptions--while Cooley and Fred Davis are pass-catchers. Ryan could see considerable playing time as a blocking tight end, but he is likely third on the depth chart behind Cooley and Davis.