Wondering about a player's status? Trying to recall a past game? Want some insight on the Redskins? Redskins.com's Gary Fitzgerald opens up the mailbag on Tuesday and answers fan questions.
Question: I think Antwaan Randle El is a great guy, but with his diminishing role in the passing game and mistakes/poor performance on punt returns, I think his roster spot will be taken by someone else next year. What's your opinion?
Gary: Whenever there's turnover on a coaching staff, some players rise and some players fall. A player like Randle El--who remains under contract with the Redskins--could find new life playing in Mike Shanahan's offense. In the passing game, Randle El has been steady in his time in Washington, averaging 47 catches in four seasons. He can play on the outside and in the slot, as well as run the wide receiver option, so his versatility has value. And he has experience in multiple offensive systems. Devin Thomas and Malcolm Kelly showed marked improvement late last season, but not enough to be named unequivocal starters in 2010. As for Randle El returning punts, I think the Redskins will start to explore other options this offseason. Drafting a speedster to add new spark to the return game could be a priority.
---
Question: What is the likelihood the Redskins pursue Terrence Cody, the defensive tackle out of Alabama? Our run defense suffered when Albert Haynesworth was not in the lineup. Just a thought--we could have our version of Minnesota's defensive tackle duo Kevin and Pat Williams.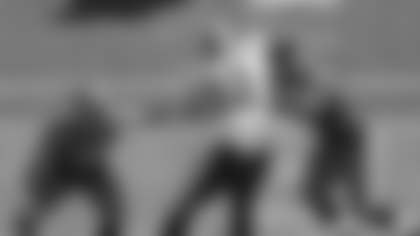 Gary: Cody is sure to be a first-round pick in the NFL Draft, so if the Redskins want him when they select at No. 4, they can probably get him. At 6-5 and 365 pounds, Cody has the potential to be a dominant run-stopper. Like Haynesworth in the pros, he draws a lot of double and triple teams at Alabama, For the Redskins, the question is whether they should they draft a defensive tackle in the first round. Given the presence of Haynesworth to go along with needs on the offensive line and at running back and possibly quarterback, defensive tackle may not be a priority in the first round. You're right, though--it's tempting to develop a defensive tackle tandem similar to the so-called "Williams Wall" in Minnesota.
---
Question: Should the Redskins draft a young quarterback in the first round of the 2010 NFL Draft and play him behind Jason Campbell? If Campbell does not play well for the first half of the season, should we then throw the rookie in and see what he can do? The Tampa Bay Buccaneers did that with Josh Freeman.
Gary: A lot depends on Mike Shanahan's evaluation of Campbell this offseason. For a glimpse into what Shanahan may be thinking, look at his past history. In 2006, Shanahan and the Denver Broncos drafted Jay Cutler, who as a rookie backed up Jake Plummer for the first 11 games. Then midseason Cutler was inserted as the starter even though the Broncos were 7-4. If the Redskins draft a quarterback, would Shanahan adopt a similar approach in Washington? Time will tell. Keep in mind that, since 2006, the NFL has seen Matt Ryan and Joe Flacco excel as rookies in 2008 and Mark Sanchez become a playoff quarterback despite struggling in 2009.
---
Question: Why is that Colt Brennan is invisible when it comes to talk about a QB next year? He owns all kinds of college records, he gets fired up, he goes through progressions like a top-notch pro and scrambles very well. What gives?
Gary: It wouldn't be a new year without the obligatory Colt Brennan question. First of all, Brennan needs to show the new coaching staff he's healthy. He underwent hip surgery in mid-September. Secondly, Brennan needs to impress the new coaching staff in mini-camp and OTAs. Coaches will review game film of Brennan last preseason. His stats: 23-of-43 for 249 yards, one touchdown, three interceptions and a 49.5 QB rating. Not impressive, certainly, but he has an opportunity for a fresh start with new coaches in place.
---
Question: What picks do we have for the upcoming draft?
Gary: I answered this question a few months ago, but with draft talk already underway, it's worth revisiting. The Redskins have their first- and second-round selections, but they surrendered their third-round pick when they plucked defensive end Jeremy Jarmon from the 2009 Supplemental Draft last July. In later rounds, the Redskins have their fourth-, fifth- and seventh-round picks. The sixth-rounder was included in the 2008 trade for Jason Taylor.