Wondering about a player's status? Trying to recall a past game? Want some insight on the Redskins? Redskins.com's Gary Fitzgerald opens up the mailbag on Friday and answers fan questions.
Question: Hey there Gary, I need your opinion on which linebacker (if the Redskins were to choose one) the Redskins should choose in the first round: Rey Maualuga or Brian Cushing?
Gary:Maualuga played middle linebacker for USC while Cushing was mostly an outside linebacker. Cushing would appear to be the better fit for the Redskins because they need a young linebacker on the strong-side. Cushing is coming off his best season, recording 73 tackles, three sacks and one interception. But I can see Maualuga as the next Brian Urlacher or Ray Lewis. The Redskins could play him at outside linebacker until London Fletcher is ready to retire or move on. Maualuga is also a fiery, intense leader and he is the kind of linebacker who can set the tone for a defense.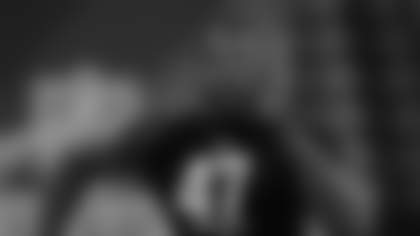 Lawrence Sidbury at the NFL
Scouting Combine (Getty
Images)


Question: Do you know if the Redskins have looked at Lawrence Sidbury from the University of Richmond? Please pass the word along to a scout.
Gary: The Redskins have evaluated Sidbury, just as they have evaluated every draft prospect, and he is certainly on their radar. He is regarded by many as one of the top 10 defensive ends in the draft and he could also play linebacker in the pros. Sidbury had an incredible 2008 season, logging 56 tackles, 20 tackles for a loss and 11.5 sacks. He had four sacks in his last college game, the FCS Championship game. He kept it going with a strong performance at the NFL Scouting Combine, where he ran the fastest time in the 40 among defensive linemen. Sidbury is moving fast up draft boards. If the Redskins want him, then they may have to grab him at No. 13 or trade down to the late first round or early second round. He likely won't be available when the Redskins pick in the third round.
Question: Why don't the Redskins pick up Plaxico Burress or Matt Stover? Those two players would be great additions for the Redskins.
Gary: There's no denying Burress's talent, but he could be facing jail time due to the handgun incident that occurred last November. Now is not the time to take a risk on Burress. As for Stover, if Shaun Suisham struggles during off-season work or suffers an injury, then the Redskins may look at free agent veteran kickers like Stover. He has kicked for the Baltimore Ravens organization since 1991 and has converted 83.7 percent of his field goals in his career.
Question: Do you think it is possible that the Redskins will draft a running back with their first-round pick?
Gary: I'm on record as saying the Redskins could use a Chris Johnson-type of running back, someone who adds lightning-quick speed and a more dynamic presence to ground game. But I don't think there's a Chris Johnson-type running back in the draft. And the Redskins have other more pressing needs to address in the first round. I believe they are fine with Clinton Portis and Ladell Betts for at least one more season.
Question: How do you think Reed Doughty will fit in with the outstanding play of Chris Horton last year?
Gary: Doughty will compete with Horton and Kareem Moore for playing time in the Redskins' secondary. It's easy to forget how well Doughty played down the stretch in 2007 taking over for the late Sean Taylor. Last year, a back injury landed him on injured reserve. Horton impressed as a starter at strong safety last year and Moore was solid in a reserve role at free safety. Doughty has the versatility to play both positions and he excels on special teams. He'll be in the mix for a backup spot, at the very least.
Question: Do you think the Redskins will re-sign Marcus Washington? He was a good leader and could help groom a young linebacker.
Gary: Washington remains a free agent, and it appears he is weighing his options right now. Once NFL teams begin OTAs and mini-camps in May and June, I expect Washington will come to a decision. Will it be with the Redskins? Strong-side linebacker has become a lot more crowded lately with the signing of veteran Robert Thomas. Plus, defensive end Chris Wilson is converting to outside linebacker this offseason. And the Redskins are likely to address the position in the upcoming NFL Draft. As time passes, I think it becomes increasingly unlikely that Washington returns to, well, Washington.
Question: Why are people so excited about Colt Brennan? He played well in one or two games last preseason, and has looked shaky in every other game.
Gary: Wow, there has been a deluge of Colt Brennan questions and comments this week. And, yes, it appears many fans want him inserted as the Redskins' starting quarterback now. Right now. The reason why people are so excited about Brennan is that he showed some flashes last preseason and he is, simply put, the backup quarterback. Apparently, it's true that everybody loves the backup quarterback. Brennan has potential, certainly, but he is in his second NFL season after playing in a run-and-shoot offense in Hawaii. He must continue to learn Jim Zorn's offense, refine his technique and continue to adjust to the NFL level before anyone thinks about inserting him as a starter.