Wondering about a player's status? Trying to recall a past game? Want some insight on the Redskins? Redskins.com's Gary Fitzgerald opens up the mailbag on Tuesday and answers fan questions.
Question: Hey Gary, do you think Malcolm Kelly could be the same type of player that Andre Johnson is? They are both around the same weight and Kelly is one inch taller. Is Kyle Shanahan planning on making him the next "Andre the Giant"?
Gary: I just perused my 2008 draft guide and noticed that Kelly's NFL comparison at the time was none other than Johnson, the 6-3, 225-pound receiver for the Houston Texans. Johnson has emerged as one of the game's top receivers, catching 100 passes three of the last four years. Kelly, 6-4 and 227 pounds, is working to reach that level; he made strides last season, catching 25 passes for 347 yards, after an injury plagued rookie campaign. Like Johnson, Kelly has good athleticism, good hands and long arms to reach out and grab passes in traffic. Offensive coordinator Kyle Shanahan coached Johnson and he may want to use Kelly in a similar role. Kelly has spent a lot of time watching Johnson this offseason. "You look at the Texans' game film from last year, Andre and all those guys, it was hard for defenses to get a good jam on them," Kelly said.
---
Question: Which players do you see making up our wide receiver corps in 2010?
Gary: In years past, the Redskins have typically kept five wide receivers on the roster. That could change to six as Mike and Kyle Shanahan implement their version of the West Coast offense. It's likely that Santana Moss, Devin Thomas and Malcolm Kelly have three roster spots locked up. It appears there is competition for the remaining 2-3 spots, with veterans Joey Galloway, Bobby Wade and Roydell Williams all in the mix. Rookie Terrence Austin, a seventh-round selection, has a chance if he can excel as a kick returner. Otherwise he might be a practice squad candidate. Don't be surprised if the Redskins continue to tinker with the wide receiver corps through preseason.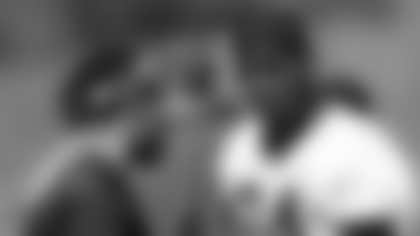 ---
Question: Why did the Redskins release Marko Mitchell?
Gary: Whenever there's coaching and administration change on an NFL team, some players rise and some players fall. Mitchell was not able to impress Redskins coaches in the April mini-camp and the team subsequently added veterans Joey Galloway, Bobby Wade and Roydell Williams to round out the wide receiver corps. Mitchell did not excel on special teams, another factor in his release.
---
Question: Gary, what's your take on the new quarterback we signed, Daryll Clark?
Gary: First this needs to be cleared up: The Redskins have not signed Clark, contrary to media reports. Clark, the former Penn State quarterback, has been invited to the team's May 7-9 mini-camp on a tryout basis. If he impresses, he may be offered a rookie contract after mini-camp. Scouts say that Clark may need a lot of work on his mechanics, including his delivery, so if he makes an NFL roster he would certainly be a work in progress. He was elusive as a quarterback, so he could get a look at running back. Wildcat, maybe?
---
Question: Gary, I'm not complaining, but Selvish Capers was the ninth-ranked offensive tackle in the draft, according to Scouts Inc. How did he end up still being available in the seventh round for the Redskins? Lack of need by other teams, something wrong with Capers or just great luck by the Redskins?
Gary: Capers played primarily at right tackle at West Virginia, and right tackles do not seem to get as much attention in the draft as left tackles. Scouts say Capers is a raw prospect who needs to get stronger in the weight room and refine his technique at the NFL level. That said, if Capers can make a quick adjustment and stay disciplined with technique, then he could advance quickly. As a fourth- or fifth-round prospect who dropped to the seventh round, Capers is one player to keep an eye on this offseason.