Wondering about a player's status? Trying to recall a past game? Want some insight on the Redskins? Redskins.com's Gary Fitzgerald opens up the mailbag on Tuesday and answers fan questions.
Question: What offensive linemen do you think the Redskins will retain next year?
Gary: A lot depends on Chris Samuels and whether he decides to retire. If he comes back, then other positions along the offensive line should start to fall into place. If he does not come back, then left tackle becomes a critical need in free agency or the draft. Among last year's starters, Casey Rabach, Levi Jones and Mike Williams are unrestricted free agents. All three have a chance to return, particularly Rabach who is a reliable center and leader. I thought Jones was, for the most part, solid in his stint at left tackle. Randy Thomas has been injury plagued in recent years and he may have to battle to claim a roster spot in 2010. Likewise, Stephon Heyer may face competition for a starting job at right tackle. Perhaps the only certainty? Derrick Dockery returns at left guard. I expect two new starting offensive linemen--possibly three--when the Redskins go to training camp in July.
---
Question: With Jim Haslett coming in as the defensive coordinator and the possibility of switching over to a 3-4 base defense, do you think the Redskins may move Albert Haynesworth to defensive end?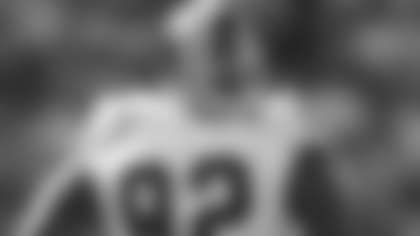 Gary: Lots of questions about Haynesworth and how he would fit in a 3-4 base defense, should the Redskins decide to go in that direction. Make no mistake, Haynesworth, at 6-6 and 350 pounds, could play either nose tackle or defensive end in a 3-4. If he plays nose tackle, then he would be required to engage interior offensive linemen, allowing linebackers to make more plays. Given his ability to rush the passer, it would make sense for him to play end because he could use his power against offensive tackles. No matter where he lines up, Haynesworth is going to face double teams. And no matter where he lines up, coaches are going to put him in a position to make plays and have an impact on the game.
---
Question: If talk about switching to a 3-4 defense is really a possibility, what are the chances of the Redskins selecting Ronaldo McClain to pair with London Fletcher?
Gary: At 6-4 and 258 pounds, Alabama's McClain would be a good fit at inside linebacker in a 3-4. Last season, he posted career highs with 105 tackles, 14.5 tackles for a loss, four sacks and two interceptions. He is regarded as the top inside linebacker available in the draft--but he may not be worthy of No. 4, where the Redskins pick. If they target McClain, they would have to either trade down or hope he falls to the second round, always a possibility with linebackers. Incidentally, McClain won the Butkus Award this year--the award is given to college football's top linebacker.
---
Question: Gary, you stated [in the Fan Mailbag last week] that you don't think the Redskins ever ran a 3-4 as a base defense. That, sir, is incorrect. Under Marvin Lewis [in 2002], the Redskins ran a 3-4 with LaVar Arrington posting a career-best 11 sacks.
Gary: In 2002, the Redskins employed a 4-3 with Bruce Smith, Renaldo Wynn, Daryl Gardener and Dan Wilkinson on the line and Jessie Armstead, Jeremiah Trotter and Arrington at linebacker. (When Trotter was injured late in the year, the late Kevin Mitchell stepped in.) Sure, the Redskins have had packages in which they have used a 3-4 in recent years, particularly with the creative Gregg Williams as coordinator, but not as their base defense.
---
Question: Hey, will Fred Davis get more playing time next year even if Chris Cooley comes back? That would be one great tight end duo!
Gary: Sat in on an interview with new tight ends coach Jon Embree this week, and he said he was excited to work with both Cooley and Davis this season. Asked if the offense could have both Cooley and Davis on the field at the same time, Embree said, "Most definitely." With his 48 catches and six touchdowns last season, Davis proved he was worthy of playing time, so I would expect coaches to find a way to not only get him on the field but also make an impact alongside Cooley.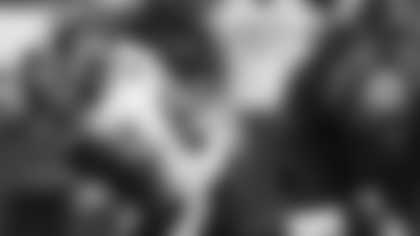 ---
Question: Hi Gary, have you heard any rumblings or rumors about the Redskins changing or updating their uniforms? It is time for a change!
---
Question: Hey Gary, is it a good possibility that we would trade our No. 4 pick for a later pick in the first round and try to pick up a third-round pick? I feel there is good offensive line talent we could get later in the first round.
Gary: I like your thinking, and the Redskins are sure to explore this option. But when you have the No. 4 pick in a draft, you have the chance to get a true franchise player, at any position. Simply put, the No. 4 pick is a building block for the future. It would be hard to pass up selecting at No. 4. That said, if there's no franchise player available when the Redskins pick, then trading down and acquiring more picks would be a solid course of action.