Wondering about a player's status? Trying to recall a past game? Want some insight on the Redskins? Redskins.com's Gary Fitzgerald opens up the mailbag on Tuesdays and answers fan questions.
---
Question: There are many good linebackers in this year's draft. The one player that I really find amazing is Kelvin Sheppard from LSU. Can he play inside or outside linebacker in the Redskins' 3-4 defense? What round do you think he will be selected, and should the Redskins go after him?
Gary: Sheppard is an intriguing prospect. Many scouts regard him as an inside linebacker but he has also played outside as well. Like fellow linebacker Perry Riley, the Redskins' 2010 fifth-round pick out of LSU, Sheppard has mostly played in a 4-3 scheme, so transitioning to a 3-4 would be an adjustment. He had his best season as a senior, posting 116 tackles, four sacks and one interception. His intangibles set him apart, though. He's a natural leader and his LSU bio credits him with giving fiery pre-game speeches. (Sounds like London Fletcher.) Sheppard is projected as a second- or third-rounder and he could be a target for the Redskins in the second round, especially if Rocky McIntosh departs via free agency.
---
Question: Nearly every mock draft I look at has us drafting on offense, either Cam Newton or Julio Jones. I was wondering, who are the defensive guys on the radar?
Gary: The Redskins appear to have needs at almost every position on defense, so there are likely a dozen defensive prospects on the team's radar in the draft. Defensive end is a premium position and Alabama's Marcel Dareus and Cal's Cameron Jordan could be targets. At nose tackle, North Carolina's Marvin Austin and Baylor's Phil Taylor are rising up draft boards, but keep an eye on Hampton's 340-pounder Kenrick Ellis. Of course, if Texas A&M linebacker Von Miller slips to No. 10, the Redskins may grab him. Miller, who had 33 career sacks for the Aggies, would pair with Brian Orakpo to solidify outside linebacker for years to come.
---
Question: There are a few [potential free agents] who I think the Redskins might be interested in: Champ Bailey, Dawan Landry, Brent Grimes, Haloti Ngata, Vincent Jackson and DeAngelo Williams. Which of them could you see in a Redskins uniform?
Gary: We've reached that point of the offseason where fans dream of a free agent bounty. Okay, I'll play, but remember this is just my opinion. Ngata would be a perfect pickup, but it would be surprising if he leaves Baltimore. Would Landry join his brother LaRon in Washington? Unlikely – they both play strong safety. Bailey has a history in Washington, but he played for head coach Mike Shanahan and defensive backs coach Bob Slowik in Denver. He and Grimes might be options if Carlos Rogers departs via free agency. Williams has had an injury-plagued career, but when healthy he is a dynamic running back who could fit well in Shanahan's one-cut ground game. The San Diego Chargers used their franchise tag on Jackson, so he is likely out of the free agent picture for now.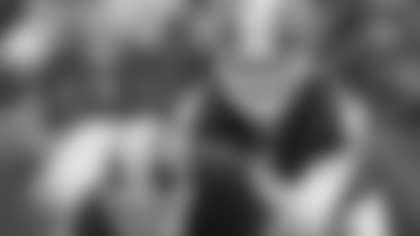 ---
Question: What are the chances that Rex Grossman is the Redskins' starting quarterback next season? I think he is better than people think and would do a great job.
Gary: Depends on what happens with Donovan McNabb. Mike Shanahan is on record as saying that he is uncertain if McNabb returns next season and he has hinted that the team may pursue a quarterback in the draft. If that happens, then Grossman – if he re-signs with the club, he is scheduled to be an unrestricted free agent – would be ideal as a caretaker quarterback as the young prospect develops.
---
Question: I seriously think Andrew Luck is worth waiting for in next year's NFL Draft. He has mobility and toughness to lead a team in the future. This year's draft is pretty bad for QBs and I know the Redskins need to solidify that spot, but I hope Mike Shanahan and Bruce Allen can keep Donovan McNabb and try to work something out between him and Kyle Shanahan.
Gary: Barring something unforeseen, Luck is sure to be the No. 1 pick in the 2012 NFL. So to draft him, the Redskins would have to be the absolute worst team in the NFL next season. I'm talking 2-14 bad. Do you really want that? Sure, the Redskins could trade the farm for the No. 1 pick next year and get Luck – but do you really want to trade the farm given all of this team's needs? In my estimation, it's best to identify your long-term quarterback as soon as possible, whether it's McNabb, Grossman, Blaine Gabbert or Cam Newton. Don't sacrifice a season. Evaluate next year when it comes.
---
Question: Is it possible that the Redskins will trade back to around No. 15 in the NFL Draft and pick up a few more picks? I believe the Redskins could get third- or fourth-round picks for Clinton Portis or Albert Haynesworth, which the team could use to build the defense and then get a wide receiver and a quarterback.
Gary: I like your thinking. If the Redskins could drop back to the middle of the first round and acquire more picks in later rounds, they can fill more needs. I'm sure team officials will consider every avenue on draft day. However, I would be pessimistic that Portis and Haynesworth could net an early- or mid-round draft pick in a trade, if that's the direction the Redskins choose to go.