Wondering about a player's status? Trying to recall a past game? Want some insight on the Redskins? Redskins.com's Gary Fitzgerald opens up the mailbag on Tuesday and answers fan questions.
Question: I know that we have three older running backs on the roster, all of whom can hold down the starting spot. But who do you think will emerge as the starter?
Gary: Until Clinton Portis, Larry Johnson and Willie Parker get on the football field for mini-camp and training camp and show what they can do, the starting job has to belong to Portis. All three come with question marks in terms of their age--Portis is 28, Johnson is 30 and Parker is 29--and the wear and tear on their bodies. But Portis played for head coach Mike Shanahan and running backs coach Bobby Turner in Denver and he knows what to expect from the offense. Speaking of Shanahan, he told reporters last week that he could envision Portis, Johnson and Parker all making the Redskins' regular season roster. That would be a surprise. They have not played a role on special teams for years, and most backup running backs are usually asked to serve on kick returns and kick coverage units. But when it comes to Shanahan and his stable of running backs, don't count anything out.
---
Question: In your opinion, do you think that our offensive weapons (our running backs, tight ends and wide receivers) are the best that Donovan McNabb has had in his 11-year career?
Gary: For years, the criticism leveled at the Philadelphia Eagles' front office was that the team could never surround McNabb with enough offensive talent for him to win a Super Bowl. That may have changed the last few years as the Eagles developed young offensive stars DeSean Jackson, Jeremy Maclin, Brent Celek, Leonard Weaver and LeSean McCoy. So it comes with a degree of irony that the Eagles decided to trade McNabb after years of mediocre talent around him. I believe the Redskins' skill position players on offense are on par with the Eagles' current group. Santana Moss is still a playmaker, while Devin Thomas and Malcolm Kelly have only shown flashes of promise so far. Chris Cooley and Fred Davis give the Redskins two quality tight ends. And the Redskins' running backs--Clinton Portis, Larry Johnson and Willie Parker--may be older, but they are certainly more accomplished than the Eagles' group. In my mind, the Redskins' offense in 2010 is going to hinge on the offensive line.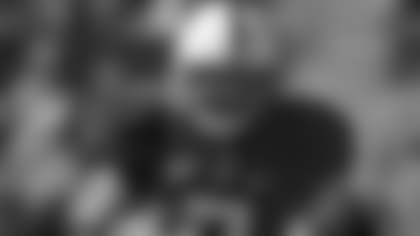 ---
Question: Do you think the Redskins need to pick up a young tailback in the draft or sign an undrafted rookie? I'm really hoping the Redskins draft Toby Gerhart out of Stanford if he is available later in the draft.
Gary: Similar to offensive line, running back is a position that has long been neglected by the Redskins in the draft. Since 1999, the Redskins have drafted just one running back--Ladell Betts. (The team has drafted three fullbacks, with Rock Cartwright eventually becoming more of a tailback.) So while Clinton Portis, Larry Johnson and Willie Parker provide veteran depth and experience in the short term, a young running back will eventually be needed for the long term. Gerhart is likely to be drafted in the second or third rounds--he has been compared by some to the Atlanta Falcons' Michael Turner--and the Redskins don't have picks in either of those rounds.
---
Question: I have been searching the web for information regarding Levi Jones and his status. It is my understanding that he is an unrestricted free agent. He is not listed on the Redskins' roster, thus he's not a Redskin, and he hasn't signed with any other teams. Do you think the Redskins will re-sign him?
Gary: It appears the Redskins have opted not to re-sign Jones. To me, this is a surprise. I thought Jones held up well starting at left tackle the last eight games of the season. Sure, he had some down moments--he struggled in the Redskins' late-season losses to the New York Giants and Dallas Cowboys--but overall he played well enough at a position that is a dire need with Chris Samuels now retired. Of course, the Redskins may find their starting left tackle in the draft, so Jones ultimately may not have a spot on the team anyway.
---
Question: Who is Nick Sundberg?
Gary: I gather you're not the only one to have scanned the Redskins' roster and wondered about Nick Sundberg. He is a first-year player hoping to establish himself as an NFL long snapper. He spent the final two weeks of the 2009 regular season and the postseason with the Baltimore Ravens practice squad. Sundberg entered the NFL as an undrafted rookie with the Carolina Panthers. He played college football at Cal and he served as the Golden Bears' long snapper since his freshman year.
---
Question: Why is Ethan Albright missing from the roster? Has he been released?
Gary: Albright entered the offseason as an unrestricted free agent. He has not been signed by the Redskins. For now, the Redskins are going with the aforementioned Nick Sundberg as the team's long snapper.