Wondering about a player's status? Trying to recall a past game? Want some insight on the Redskins? Redskins.com's Gary Fitzgerald opens up the mailbag on Tuesday and answers fan questions.
Question: What the Redskins lack is speed. Why don't coaches try Devin Thomas or Anthony Alridge on kick returns?
Gary: I agree that elite speed is lacking at several key positions, including kick returns. Jim Zorn believes, first and foremost, that a returner should have sure hands. Rock Cartwright and Antwaan Randle El are reliable in that regard. A turnover on a return is a game-changing play--witness the special teams gaffe by Byron Westbrook on the fourth quarter punt return in Carolina. That said, the Redskins are ranked 16th in in the NFL in kickoff returns and 28th in punt returns through six games. Cartwright is a solid returner, but I believe the speedy Thomas should be given more of a chance. Thomas had one kick return for 21 yards in Week 2 vs. St. Louis and showed flash in preseason earlier this year. He was an elite kick returner at Michigan State. On punts, Zorn is staying with Randle El but wants to get Santana Moss at least two returns per game. As for Alridge, he had a critical fumble on a kickoff in preseason and did not earn trust as a returner.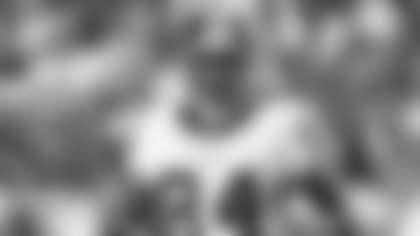 ---
Question: Where is Marko Mitchell? This guy is a beast...Tell Jim Zorn to put him out there.
Gary: I would not be inclined to tell Jim Zorn how to do his job, no matter how the team is performing. In this space, I have suggested in the past that Mitchell may not be ready for playing time at wide receiver this early in his career. Zorn suggests otherwise, though. "If I could activate the next guy, Marko Mitchell would be the guy because he can help us out," Zorn said. "He works hard every week in practice, and he gets out there and competes. He is trying to get our defense to play better just by the way he plays on the scout team." So, Zorn is saying Mitchell is caught in a numbers game. Given the 45-player limit on game days, the team can only keep four wide receivers active on game day.
---
Question: Why are the fans calling for Jason Campbell's head when the offense starts with the offensive line? Look back on our Super Bowl years--we made it to the dance with average quarterbacks. Doug Williams and Mark Rypien were just average QBs behind a stellar offensive line.
Gary: It's true that Campbell has not been helped by injuries along the offensive line, particularly to Chris Samuels. Campbell has been sacked 14 times and he has been pressured countless other times. To hear Jim Zorn tell it, Campbell is not helping himself with decision-making in the pocket and his accuracy: "In the first half [of the Chiefs game], I felt like we had some things open, some things that were obvious. While Jason was trying to get the ball to the right guys, two things happened. First thing was that [Campbell was] a little late and hesitating on hitting some [throws]. Then, second thing was that [Campbell was] inaccurate." Until Campbell shows improvement, fans are going to continue to want a replacement.
---
Question: What has happened to Fred Smoot? I haven't seen him play in recent weeks. Was he benched or was he hurt?
Gary: Smoot actually started the Kansas City game last Sunday when the Chiefs opened the game with three wide receivers. Smoot was listed as a strong safety, a position that he played at times during training camp and preseason. It could be a way for Smoot to see more action, even though Reed Doughty continues to get the bulk of reps in practices and games. This season, Smoot has competed with second-year player Justin Tryon for playing time as the Redskins' nickel cornerback. Tryon has improved this year and he is earning the trust of defensive coaches Greg Blache and Jerry Gray.
---
Question: We obviously don't have a quality West Coast offense quarterback, so why don't we sign Jeff Garcia? He's a veteran who knows how to play the game and more importantly knows how to win games. Thoughts?
Gary: Garcia is 39 years old. The Redskins already have a veteran backup quarterback in Todd Collins, who turns 38 on Nov. 5. Collins has been in the system the last 18 months, so at this point it's best to give Collins a chance should Campbell be benched again. He is more ready than Garcia or anyone else. That said, I think your idea is a good one, even though it's past its expiration date. Actually, I would have been inclined to bring in Garcia after he left the Oakland Raiders in preseason. (He had a brief stint with the Philadelphia Eagles earlier this season.) Garcia brings a fiery attitude and could certainly provide a spark in the short term.