Wondering about a player's status? Trying to recall a past game? Want some insight on the Redskins? Redskins.com's Gary Fitzgerald opens up the mailbag on Tuesday and answers fan questions.
Question: Gary, with all of the questions at the quarterback position, what is Mike Shanahan's position with Colt Brennan? I feel that the Redskins are doing a huge disservice to themselves and the fans by not giving Colt a legitimate shot at starting quarterback.
Gary: Mike Shanahan was asked about Brennan during the NFL Scouting Combine, and I'll let him speak on the subject: "It's part of the process. We just put a coaching staff together, we put in an offense and defense, and I'm looking at all of the film. I haven't had a chance to see anybody except Jason Campbell play, except for a couple preseason games. So [Brennan] will be an evaluation process. Obviously we'll have to go through a couple of mini-camps, see where people fit the system, and we're going to play the best players." Translation? It appears Brennan (if fully healthy, as expected) will have a chance to impress the new coaching staff in mini-camps and OTAs this spring. That's all he can ask for. Mike Shanahan has coached the likes of Steve Young and John Elway, so he knows QB talent as well as anyone. If Brennan's style of play fits Shanahan's offense, then he'll get a "legitimate shot."
---
Question: Hi Gary! It appears that the Redskins will use the 3-4 at least part of the time in 2010. If they move Andre Carter and Brian Orakpo to full-time linebackers, who do you expect to play on the defensive line? -- Alex B.
Gary: It's too soon to even speculate on this, because defensive coordinator Jim Haslett is still evaluating the personnel and whether it fits a 3-4. Plus, there may be some roster moves that determine what direction Haslett goes on defense. I'll give your question an answer, based on players on the current roster. (Remember, this is only speculation!) I could envision Phillip Daniels and Albert Haynesworth lining up at defensive end, with Anthony Montgomery playing nose tackle. I suspect personnel officials will scour free agency and the NFL Draft for more candidates to play nose tackle. Why not Haynesworth? Nose tackle requires a stout player who engages offensive linemen and allows linebackers to make plays, and Haynesworth's unique skill set, which includes rushing the passer, would be better served playing defensive end.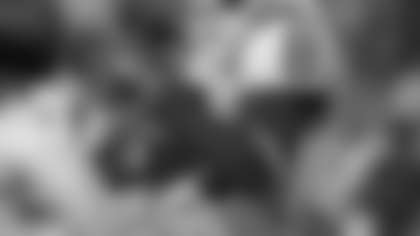 ---
Question: The Redskins lack speed at the running back position. Do you think in the NFL Draft they may go after a super speedster like Trindon Holliday out of LSU? He can also be used as a punt and kick returner.
Gary: With the Redskins releasing both kick returner Rock Cartwright and punt returner Antwaan Randle El, change is in order at both spots. Holliday is in the Darren Sproles mold, except shorter at 5-5 and 161 pounds. Holliday's LSU bio calls him the "fastest player ever to play college football." In four years at LSU, he returned two kickoffs and two punts for touchdowns. If Holliday is available in the mid-rounds of the draft, he could be a wise selection for a Redskins team in desperate need of speed.
---
Question: Hi, I am a U.S. solider stationed in Iraq, but my home state is Virginia! My question: The Redskins have offered Jason Campbell a tender [as a restricted free agent], if another team signs him, what would the Redskins receive for compensation?
Gary: The Redskins tendered Campbell at a first-round level, so they would be eligible to receive a first-round draft pick if another team signs him to an offer sheet.
---
Question: Gary, the NFL Draft is fast approaching and I have a burning question that needs an answer. Will there be a Draft Day Party this year?
Gary: Yes, the Redskins will host a Draft Day Party this year! It will be held on Saturday, April 24, which is the last day of the three-day draft. More details are coming soon.
---
Question: Do you think the Redskins will look at Myron Rolle with their second- or fourth-round draft picks? I think he had the skills to be a first-rounder if he came out after his senior year, but since he was away from football, I feel he could be a major steal.
Gary: If Rolle slides to the Redskins' fourth-round pick, then he could warrant consideration even though I don't think safety is a top priority this offseason. Some background on Rolle: In 2009, Rolle put his NFL prospects on hold to attend Oxford University as a Rhodes Scholar. Now he's back to football, which he excelled at for Florida State from 2006-08. Rolle, 6-2 and 223 pounds, posted 206 tackles, 12 pass break-ups and one interception as a three-year starter for the Seminoles.
---
Question: The two quarterback possibilities in the draft at this point are really between Sam Bradford and Jimmy Clausen. If Bradford is off the board, and the Redskins decide to pick Clausen, do you believe that Joe Theismann would allow Clausen to wear No. 7 for the Redskins?
Gary: Given that both Theismann and Clausen are Notre Dame alums, I could see that happening. But let's let the draft play out before speculating on jersey numbers.