It was a day for the Redskins in Canton, Ohio.
At the Pro Football Hall of Fame induction ceremony at Fawcett Stadium, the stands were filled with legions of Redskins fans, many clad in burgundy jerseys.
They were there to celebrate the induction of two Redskins greats, wide receiver Art Monk and cornerback Darrell Green.
Jonas Stevens of Bethesda, Md., drove eight hours to attend the induction ceremony and pay tribute to two Redskins who inspired him growing up.
"They were the heart and soul of the Redskins on the field, and they had great character off the field," Stevens said an hour before the ceremony. "How could you not admire them?"
It's safe to say that at least 90 percent of the fans in attendance were Redskins fans.
That much was evident when Canton mayor William J. Healy, Jr., proclaimed it "Redskins Day" at the Hall of Fame. It seemed the entire stadium stood up and roared approval.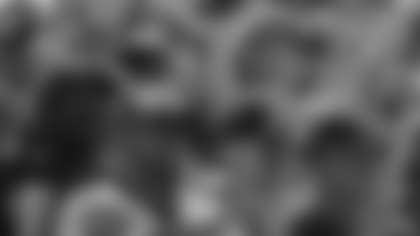 Redskins fans were everywhere at the induction ceremony. (AP Photo)
During the introduction of the Hall of Famers in attendance, the fans made their presence known.

When Joe Gibbs was introduced to the crowd, fans stood in unison and applauded the former head coach for several minutes. Gibbs led the Redskins to three Super Bowl championships and helped guide Monk and Green to their Hall of Fame careers.

It was the same for Redskins greats Bobby Mitchell, Ken Houston and Charley Taylor as they took their seat on the stage.

Chris Berman, emcee of the ceremony, said: "It's a Redskins home game in Canton, Ohio. Wow!"

The reaction to Dallas Cowboys Hall of Famers in attendance? Of course, Tony Dorsett, Michael Irvin and Mel Renfro were booed--all in good-natured fun.

When Monk and Green were introduced to the crowd at the 22,000-seat stadium, one after the other, fans stood and cheered again, for several minutes again.

Green waved to the fans, while Monk raised both of his arms, a gesture for more applause.

They enjoyed the cheers one more time.

Among the fans applauding was Jim Tesero, clad in a Sean Taylor jersey and holding a helmet that was signed by Green in 2000. Tesero hails from Front Royal, Va.

"It's a special day," he said. "It's a day for Redskins fans to celebrate two of their own."