The Redskins released five players on Sunday, including linebacker Alfred Fincher and offensive lineman Devin Clark, to get down to the roster limit of 75.
Along with Fincher and Clark, the Redskins released wide receiver Marques Hagans, safety Michael Grant and defensive lineman Michael Marquardt.
Who has made it so far? All of the club's draft picks and undrafted rookies remain on the roster.
Following this Thursday's preseason finale at Jacksonville, the Redskins must reduce their roster to the NFL-mandated 53 by Sept. 5.
Fincher's release was a mild surprise, but the Redskins drafted two linebackers in Cody Glenn and Robert Henson and have been impressed with undrafted rookie Darrel Young.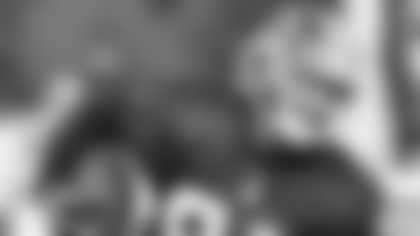 Fincher was on the Redskins' roster all of last season and played primarily on special teams, recording nine tackles in 15 games.
"To us, there was kind of a ceiling there on him, compared to the other guys who are coming on," Jim Zorn said of Fincher. "He may have been more seasoned, but sometimes in a younger guy there is a potential there that you like."
Clark, a 6-4, 325-pound offensive lineman who lined up at tackle in preseason, played in two games for the Redskins last year. He spent the first 14 weeks of the season on the team's practice squad.
Grant and Hagans were also on the Redskins' practice squad last year. Grant originally joined the practice squad on Nov. 27 and Hagans originally joined the practice squad on Dec. 9.
Hagans was thought to be in the mix for the No. 5 wide receiver job, but he did not make an impact in preseason games, catching just one pass for nine yards.
Marquardt joined the Redskins in the middle of 2009 training camp.