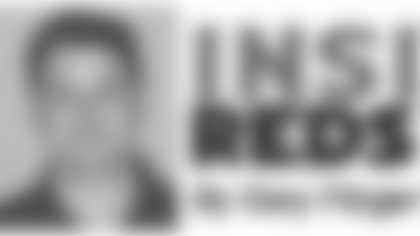 In the moments after Saturday's 47-3 preseason loss to the Carolina Panthers, Clinton Portis stood before television cameras in the Redskins locker room.
"I hope coach is watching this," Portis said. "'Coach, I'm playing against Jacksonville.'"
Now Portis is not one to embrace preseason games, so his remarks came as a bit of a surprise.
The Redskins take on the Jacksonville Jaguars this Thursday night at FedExField in the preseason finale for both teams. Kickoff is 7 p.m. ET.
As practice resumed this week, more veteran Redskins admitted they wanted to play in the preseason finale, just to get bad memory of the Carolina game out of the mind.
"It will be good to go back out there on the field because it will give us a chance to wash it out of our memory," Chris Samuels said. "It was a tough game, so hopefully we can go out there and play well."
Added Jason Campbell: "We can learn a lot from this. We took one in the chin. One thing that [Carolina] did is that they came out to play. We have to come with more aggressiveness and play with more of an attitude."
Jim Zorn confirmed on Tuesday that offensive starters would play at least the first series of the Jaguars game.
"It won't be much more than the first series," Zorn said. "It depends on how the series goes. I don't think I want to bring them back out, but you never know."
In the Carolina game, Redskins' starters on offense managed just 49 total yards in the first half. Jason Campbell was 6-of-10 for 39 yards and was under constant pressure. He was sacked four times.
Will defensive starters play against Jacksonville?
"They messed up [in the Carolina game], so they should leave it in their mouths as long as they can," Blache said.
The defensive starters yielded 303 total yards to the Panthers, including 185 yards on the ground. Two running backs, DeAngelo Williams and Jonathan Stewart, finished with 100 yards rushing.
Surprisingly, LaRon Landry is the only projected defensive starter who could play in the game.
Landry has been sidelined all preseason with a hamstring injury, but he is ready to return.
Zorn said he may want Landry to get some playing time to help remove the rust from his long layoff.
Zorn admitted he originally had not planned to play starters in the preseason finale.
"Had we gone out there and performed with any type of consistency, I probably would not have brought them back out [on Thursday]," Zorn said. "But they want to get back out there as well. They want to work together cohesively as a group.
"We're out there to score on offense every time, but that's not the issue. The issue is to work together as a group."