Redskins.com counts down to the start of Redskins Training Camp Presented by RE/MAX. Here are five coaches to keep an eye on as training camp unfolds:
-- MIKE SHANAHAN
Apart from quarterback Donovan McNabb, head coach Mike Shanahan could draw the most eyes of anyone on the Redskins Park practice fields during camp.
He has two Super Bowl championships on his resume. He is linked to such greats as Steve Young and John Elway, among others. And he is a Hall of Fame-caliber coach.
In off-season practices, Shanahan was more of an overseer than a hands-on coach. He often stood 15 yards from the line of scrimmage so that he could evaluate the action from a distance. This vantage point allows him to decipher how plays function and where breakdowns occur.
After practice, Shanahan huddles with the entire team at midfield, imparting his message for several minutes.
He sees the big picture. He sets the tone.
-- JIM HASLETT
Jim Haslett is a veteran of 24 NFL seasons, including eight as a linebacker, seven as a head coach and nine as an assistant coach.
He brings plenty of experience devising defenses, of course. He has had success directing 4-3 and 3-4 defenses in his career; he is installing a 3-4 in Washington.
As Redskins defensive coordinator, Haslett's focus is to help generate more turnovers, a category that the Redskins have struggled with in recent years.
Last year, the defense posted just 17 turnovers (11 interceptions, six forced fumbles), the fewest among the NFL's 32 teams.
"Turnovers are what win games," he said. "You give the ball back to the offense. The more turnovers, the better."
Haslett stands out on the practice fields with his bleach blond hair. Keep an eye on him during 11-on-11 drills as he sends blitzers after the quarterback. His scheme is designed to ensure that the offense can never get a read on where the pressure is coming from on a given play.
-- KYLE SHANAHAN
Kyle Shanahan always wanted the opportunity to coach alongside his father. Now, the 30-year-old gets his chance as Redskins offensive coordinator.
Shanahan directed the Houston Texans' high-powered offense the last two years, helping quarterback Matt Schaub and wide receiver Andre Johnson earn Pro Bowl nods. The Texans finished last year as the NFL's top-ranked passing offense.
With the Redskins, Shanahan takes over an offense that has struggled in recent years. His offense has a foundation in West Coast principles, but he puts his own spin on the system with his play concepts and play-calling.
The offense is expected to be run-focused, with Clinton Portis, Larry Johnson and Willie Parker on the roster, helping to set up McNabb's passing game.
During practices, Shanahan appears to spend a lot of time working with the quarterbacks, particularly Donovan McNabb. He wants to be on the same page as McNabb so that they can establish an easy rapport on game days.
-- KEENAN MCCARDELL
McCardell returns to the Redskins for a third stint, this time as wide receivers coach.
Back in 1991, McCardell was drafted by the Redskins in the 12th round, although he did not play for the team that year. He came full circle 16 years later when he returned to the Redskins for a final season.
McCardell totaled 883 receptions, 13th-most in NFL history, in his long career.
Given his experience, he has plenty to offer the Redskins' wide receivers. The group blends experience (Santana Moss, Joey Galloway) and youth (Devin Thomas, Malcolm Kelly).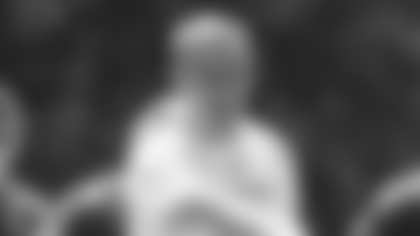 McCardell is an energetic, hands-on coach. He wants his receivers to be as competitive as he was during his career. He is old enough to relate to the veterans on the roster and young enough to relate to the youngsters.
"You just don't walk out on the field and you're automatically a great receiver," he said. "Great receivers come out day-in and day-out and work on their skill, their craft. You work on your weaknesses."
-- LOU SPANOS
Lou Spanos may seem somewhat low-key on the practice fields, but his job is a critical one: he oversees the Redskins' linebackers and he is tasked with teaching the 3-4 defense.
Spanos has plenty of experience with the 3-4. As a defensive assistant with Pittsburgh the last 15 years, he helped the Steelers' 3-4 defense become a dominant unit. He developed Pro Bowl linebackers James Harrison, James Farrior and Joey Porter, among others.
Spanos worked with defensive coordinator Jim Haslett in Pittsburgh from 1997-99. He knows where to position linebackers so that they can make plays within the scheme.
In particular, watch Spanos as he works with Brian Orakpo, who posted 11 sacks last season en route to a Pro Bowl berth as a rookie. Given his pass-rushing skills, Orakpo is expected to thrive in a 3-4.